Holiday shopping has been changing for the past few years: Online shopping is more popular than ever. It won't be surprising if kids forget about Santa Claus, and instead leave milk and cookies for the trusty delivery driver. Luckily, this trend can be an opportunity for ecommerce businesses to establish their presence and increase their conversion rates.
However, it can also spell disaster if your store is disorganized. So avoid the headache and ready your store now. That way, you can reap the rewards of the most significant spending period of the year.
In this post, you'll learn about:
The outlook for the holiday shopping season
Initial steps to prepare your eCommerce store
The critical areas of your website to optimize
Holiday promotional ideas
How to use your holiday season results to prepare for next year
Holiday shopping online 
Digital Commerce 360 reports that eCommerce spending has more than tripled in the last three years, accounting for 19.1% of total retail sales in 2021. And although restrictions on physical stores have relaxed, holiday shopping online sales are expected to increase by 6.1% in 2022.
Forecasts predict the 2022 holiday shopping season will see: 
– A rise in mobile shopping
– An increase in social commerce
– Higher demand for fast orders
– Show you care about sustainability
Let's look at the first point. Consumers are getting more comfortable with mobile shopping, which means their standards are rising. That's why it's smart to optimize your store for online and mobile shopping. Same goes for social commerce, otherwise known as shopping via social media platforms. Currently, about 30 percent of consumers in the US shop via social media, and this number is expected to almost triple by 2025.
The third on the list is pretty self explanatory. With online shopping becoming normal, people simply start to expect more. One of these is the expectation that their orders will be fulfilled within 48 hours or less.
And finally, sustainability. A topic that's recently been at the forefront of people's minds. Now, it seems like it will also start to affect people's shopping behavior. In the past year, nearly 50% of customers chose to buy from brands with a clear commitment to sustainability, according to Shopify's Future of Commerce report. However, customers are conscious of brands 'faking' their dedication to a greener planet. They want transparency. They want to see where products are made, by who, and how they're delivered.
First steps to prep your ecommerce store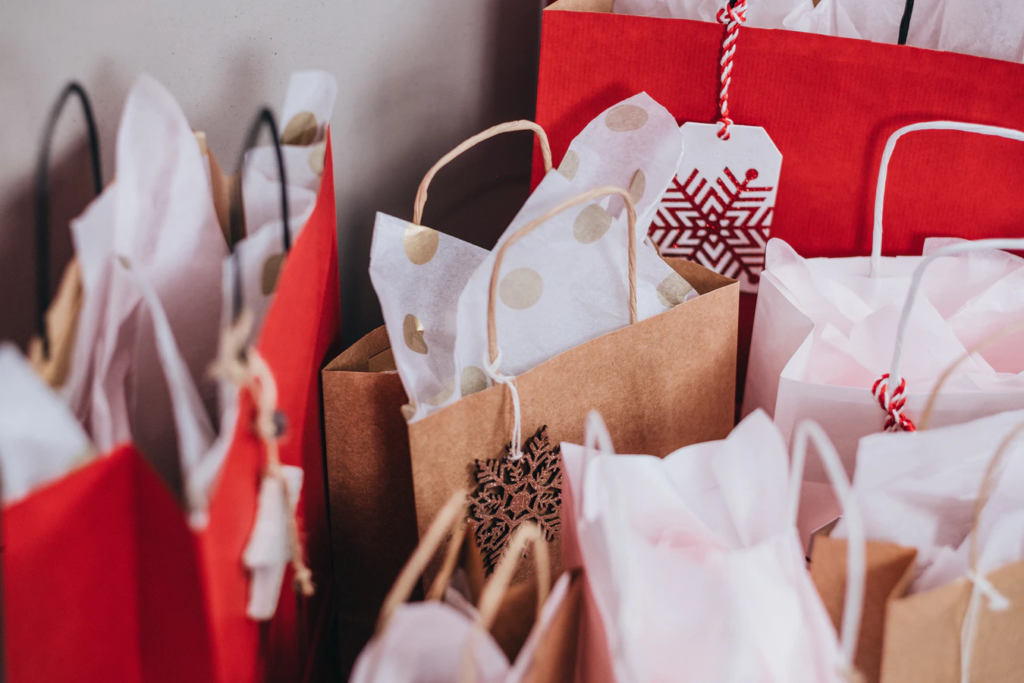 Learn from the past 
This is an obvious but important step. Glean as much as you can from last year's holiday season. Did you have enough stock? Did you lose customers because of a lack of customer service? Be sure you don't make the same mistakes twice.
Though it's been almost two years, the 2020 pandemic did provide a good learning opportunity for online stores. Especially regarding shipping times. In 2020, packages could be delayed for months. And with online shopping being as popular as it is right now, it might be smart to order your products way in advance to prevent delays.
Pick your holidays 
You can't be everywhere all of the time, and the same goes for your online store. Choose which holidays to optimize for, then do it well. Maybe you'd rather go big for Small Business Saturday than compete with the giants on Cyber Monday. Or you might want to roll out some new items just before Black Friday.
Have a plan that suits your store. Assess your audience, and determine which dates they'll be the most active. Plus, be aware that people are shopping earlier for holidays like Hanukkah and Christmas. So you might want to reconsider that December 23rd sale.
Inventory check 
If you want to be prepared for the holiday season, shoring up your inventory is essential. Do an overview of your supply chain and check in with suppliers to make sure everything will run smoothly.
Assess what you have and what you need, and make a plan for meeting your sales forecasts. Consider adding holiday-themed items or putting seasonal spins on your existing inventory.
Also, make sure you have an efficient way to track your inventory. Customers won't be happy if they have a product in their cart, only to later realize it's sold out.
Strengthen site function
One of the most important preparations: Making sure your website runs well. Users want a smooth holiday shopping experience, so make sure your website can handle an influx of traffic. Avoid any significant web changes, and do a speed check, because customers want sites that load fast.
How fast? Well, Think with Google's research shows that one to three seconds of load time can increase the likelihood of users leaving the page by 32%. That number jumps to 90% after five seconds. This also goes for your mobile site. A Google experiment found that participants who dealt with lagging websites quickly became frustrated.
Think about holiday conversion and retention
The online holiday shopping season is a great time to focus on conversion and retention. A bevy of potential customers will be visiting your website. You want them to buy something and come back for more.
First impressions matter. It takes about 50 milliseconds, so 0.05 seconds, for customers to form an opinion about your site. The harsh truth: If they don't like it, they'll leave. But your website's design is just one part of a customer's decision to stay on your site. If your website has a weird menu layout or online store that's impossible to navigate, users will quickly leave too. So evaluate your customer experience (perhaps by simply asking them). Next, ensure that your website is easy to use, organized, and valuable to your customers.
Tip: Consider offering a loyalty program and/or exclusive deals for customers who sign up for your mailing list. Encourage them to use your members-only coupon to buy more gifts at your store, or come back throughout the year.
Holiday promo ideas 
– Decorate your store with holiday season touches
– Change your SEO strategy accordingly 
– Update your website copy to have holiday content and blogs
– Create an email campaign to capitalize on big-spending days 
– Feature holiday sales and deals 
– Host contests and giveaways with a holiday theme
– Be creative and show your brand's personality
– Do a holiday countdown to remind people to shop
– Offer gift suggestions and lists to promote your products 
– Put a holiday spin on your social media content, and make your posts shoppable 
– Reward loyal customers and subscribers with exclusive deals
And last but certainly not least: Have fun creating your holiday content!
Optimize for easier checkout and shipping
– Make checkout one page
– Allow for guest checkout
– Only ask for the same information once
– Accept multiple methods of payment
Cart abandonment is another factor to have on your radar. Statista found purchases went uncompleted 69.82% of the time worldwide in 2021. Implement cart abandonment emails to attract customers back. Note that customers might give up on a purchase if there are unexpected shipping costs.
In addition, free shipping is a profitable choice if you can offer it. This might sound strange, but in Walker Sand's The Future of Retail 2018 report, 79% of consumers said free shipping would influence their purchase.
Also, if manageable, consider providing gift wrapping or packing your shipments with a personalized note. These details can set you apart from other retailers. Even adding a festive color to your shipping boxes can add a nice touch for the holiday season.
Provide strong customer service
In today's 'customer-first' world, it's crucial to offer your customers great customer service. Why? Because research found that 48% of consumers have stopped doing business with a company after a poor customer service experience. On the positive side, a whopping 89% of customers are more likely to make another purchase after a positive customer service experience.
Conclusion: Having good customer service is important. In our opinion, the best defense is a good offense. So pad your website with information and a thorough FAQ. Anticipate any questions customers might have and answer them in your content.
You might also want to consider hiring someone to focus exclusively on customer service. For example, they can field emails and deliver quick responses. Offering a live chat is also a nice feature for customers. 
Flush out your return policy
Many questions you'll receive will be about your return policy. Especially during the holiday season, when people receive gifts they already own or don't like. To prevent confusion (both for the customer and yourself), provide straightforward guidelines and easy-to-understand policies.
However, it might be good to be a bit more flexible with your return policy during the holiday season. Remember what we discussed before: A good customer service experience will almost guarantee that people will return.
Good to know: Most returns will come in the new year.
Make a plan for after the holidays 
You might be thinking: I thought this was a guide for preparing for the holidays, not after. And you're right. But it's good to reflect after the chaos of the holidays; a step that's easily forgotten because the holidays can be very stressful.
So plan a time to review sales! And don't forget to look at the other elements of your ecommerce store, including: 
– Page traffic
– Most-asked questions
– Conversion rate
– Shopping cart abandonment stats
– Website speed
– Highest profits on which days
This information will empower you to create a game plan that will help you beyond the holiday season.
In conclusion
Since customers will be doing most of their holiday shopping online this year, it's good if you're prepared. How? By creating a plan, and checking off your to-do list months in advance. Make sure you meet your customers' demands, optimize your store by evaluating your checkout process, fine-tune your return policy and customer service, and stay on top of your inventory. Bolster your holiday promotions by creating discounts, writing gift lists, and creating holiday social media content.
And finally: Don't let your work be sabotaged by slow load times. As we mentioned before, customers don't like to wait. So fortify your ecommerce website with a reliable host. Check out Bluehost's hosting packages today!