How To Access cPanel - What You Need / Where To Find cPanel
cPanel is a popular web-based hosting control panel that allows users to manage various aspects of their web hosting accounts easily. It provides a graphical interface and tools designed to simplify the website hosting process. Whether you need to set up email accounts, manage databases, or configure website settings, cPanel offers robust functionalities in one platform. This article will guide you through the steps to access cPanel for your account.
---
---
What You Need
You need to be able to log into your account to perform this task. You will be required to know:
The username for your account - This is your cPanel username or the domain on the account.
The password for your account - This is set when you create the account, and it can also be reset later if you forget.
Accessing the cPanel
Note: Bluehost provides two interface choices for account management: the original 'Bluerock' control panel and the newer 'Account Manager' designed for easier use. Although both offer similar management features, the settings and locations might differ. Refer to Account Manager vs. Bluerock' to understand which guidelines to follow.
Account Manager
Log in to your Bluehost control panel.
Click the Hosting tab from the side navigation.

Under Quick Links, click on cPanel.

Bluerock
Log in to your Bluehost control panel.
Click the Advanced tab from the side navigation menu to the left.

cPanel Admin Page
Once successfully logged in, you'll see the cPanel admin page as the nerve center for website administrators and hosts. As a web-based hosting control panel, cPanel offers a user-friendly interface with tools and functionalities that streamline website and server management tasks. From email setup and domain configurations to database management and security protocols, the cPanel admin page is the gateway to efficient web hosting operations. Here's the current cPanel admin page version 110.0.9 using the Jupiter theme: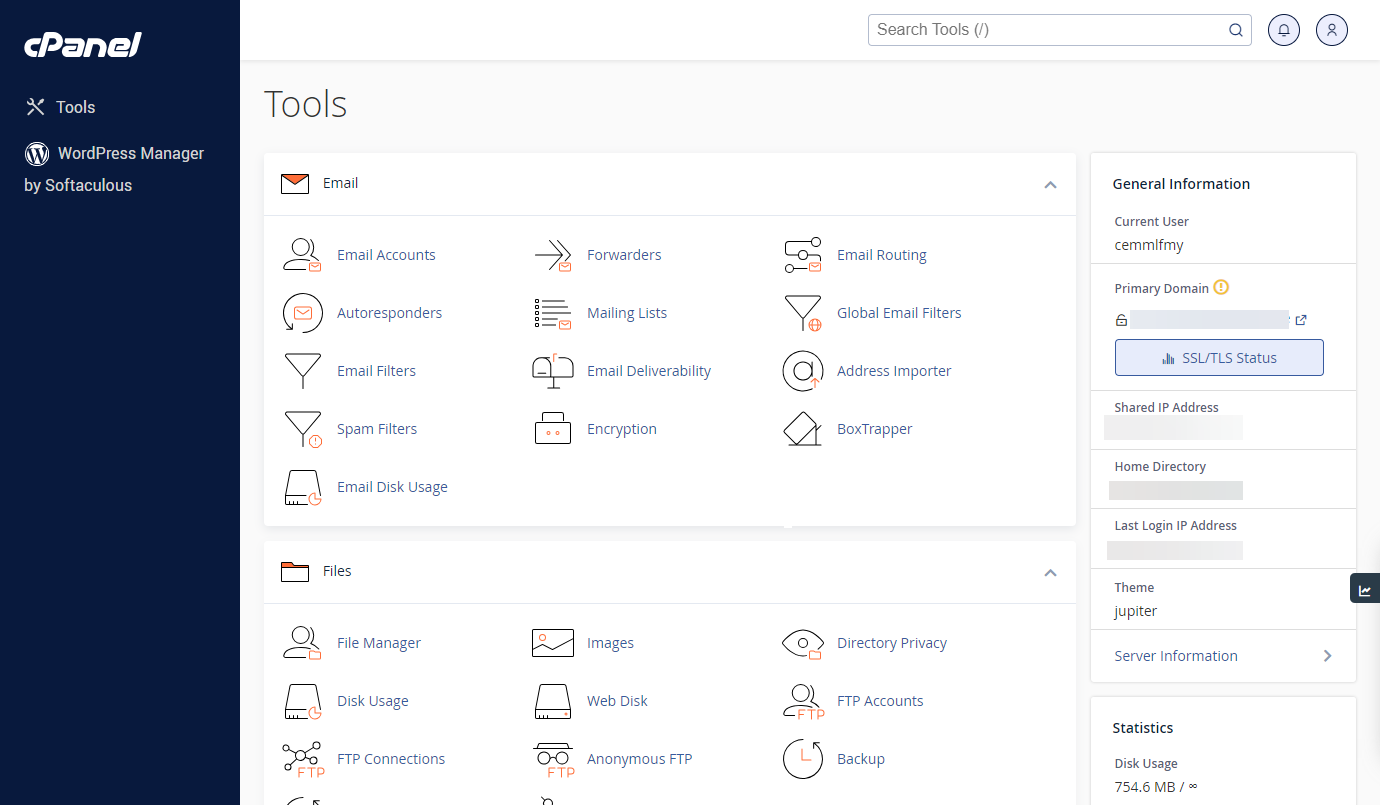 If you need further assistance, feel free to contact us via Chat or Phone:
Chat Support - While on our website, you should see a CHAT bubble in the bottom right-hand corner of the page. Click anywhere on the bubble to begin a chat session.
Phone Support -

US: 888-401-4678
International: +1 801-765-9400
You may also refer to our Knowledge Base articles to help answer common questions and guide you through various setup, configuration, and troubleshooting steps.