Jetpack - Create WordPress and Account Setup
You have probably encountered the Jetpack plugin before, as it is one of the premier plugins created by Automattic, the team that designed WordPress.com. Jetpack gives WordPress sites a powerful boost, with features that streamline the management and performance of your site. As a plugin, Jetpack brings some of the essential features of WordPress.com to your self-hosted WordPress sites - a single solution for some of the most needed functions of any website. No matter where you host your WordPress site, you can use Jetpack - all you need is a free WordPress.com account to connect it to.

Jetpack backup and the Jetpack account, in general, all require Wordpress.com credentials. This article will guide you on creating a WordPress.com account for completing the Jetpack backup process and step-by-step instructions on setting up your Jetpack account.
---
---
Creating an Account
First, you need to fill out this sign-up form in order to register via the WordPress.com site.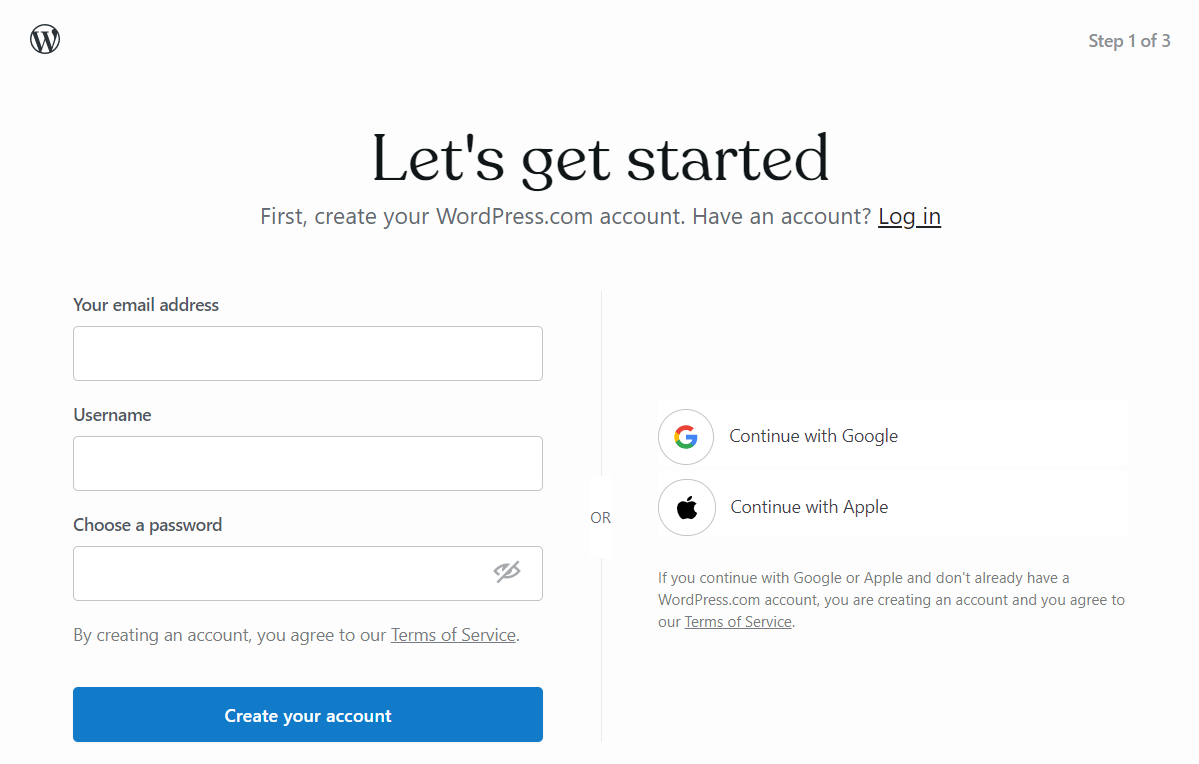 Your username can include lowercase letters (a-z) and numbers.
Make sure to create a secure, memorable password that uses uppercase and lowercase letters, numbers, characters, or symbols like ! or @.
Adding a New Site to an Existing Account
You can add more than one site to your WordPress.com account. This will allow you to use a single login for your account and still manage multiple sites.
Once you have created more than one site on your account, you'll see the option to Switch Site under My Sites.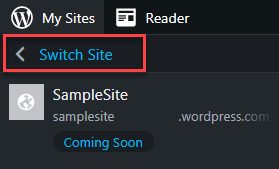 Note: Jetpack is free, though there are also paid plans that include additional premium features. Paid plans are applied to a single site on your account. If you want to use the features of a paid plan on your new site, you will want to select the appropriate plan for that site.
How to add a new site or blog to an existing account:
Log in to your account (if you are not already logged in).
Visit https://wordpress.com/start to create your new site.
Or
Log in to your account (if you are not already logged in).
Click on My Site. 
Select the Add New Site option at the bottom of the menu.
Tip: If you already have more than one site, go to My Sites,  click on Switch Site, and the Add New Site button will be at the bottom of your site's list.


Jetpack Account Setup
Log in to your WordPress Dashboard.
Under Dashboard or Plugins, you will be able to see a Jetpack banner with the Setup Jetpack button.


Click the Set up Jetpack button and log in using your WordPress.com account credentials.

or 
Log in to your WordPress Dashboard.
Click Jetpack on the left-hand side menu.

Under At a Glance tab, scroll down to Security.
Under Backup, click the Connect button.
Log in using your Wordpress.com account credentials. 

Frequently Asked Questions
Q: How do I change my Site Address?
A: When you sign up for an account, you have the option to select your site address. You can select the default, free, WordPress.com address (sometimes shown as sampledomain.home.blog, or sampledomain.food.blog), and you can change the "sampledomain" part of the address by going through Upgrades, click Domains, and select Change Site Address.
If you select a custom domain name for your site, the domain name itself cannot be changed if it's already been registered. However, you can purchase a second domain name for your site through Upgrades, then choose Domains and select Add Domain, and set this domain name as your primary site address.
Q: I bought a new domain name, and I want it to show a different site.
A: Your site can have as many custom domain names as you want. If they are all set up on the same site, they will all show the same content. If you want to create a new site, with different content, under a new domain name, you will want to follow the steps to create a New Site.
Q: Can I re-use the site address of a deleted site?
A: A WordPress.com site owner can choose, at any time, to permanently delete their site. There are a number of reasons someone may want to do this, and we certainly respect their wishes and decisions. Sites that have been deleted by the owner will remain deleted. We cannot, under any circumstances, allow someone to take over a site name that was previously owned and deleted by its original/previous owner. Please do not submit support requests asking us to do this.