VPS & Dedicated Hosting: Log in to WHM
The root password will be required anytime you would like to log into WHM. This article will explain how to log in to WHM on your VPS or Dedicated hosting account and how to reset that password.
---
---
Set your Root Password
Before you can log in to WHM, you need to create a Root password. Take Note, the instructions below are available for Legacy accounts only.  For Bluerock accounts, please proceed to Log in to WHM.
Log in to your Bluehost control panel.
Click performance in the submenu.
Locate the access management - root section.
Enter a new root password.
Re-enter the new root password.
Click the update button once done.


The root account is the user with read-and-write privileges to all files and folders on your server. Ensure that this password can not easily be guessed and is not a password used for other accounts.
Log in to WHM
The root password must be set before you can log in to WHM.
Generally, if your domain is already pointed at and resolving to Bluehost name servers and the server IP, you can log in at the following URL:
http://insertdomain.name/whm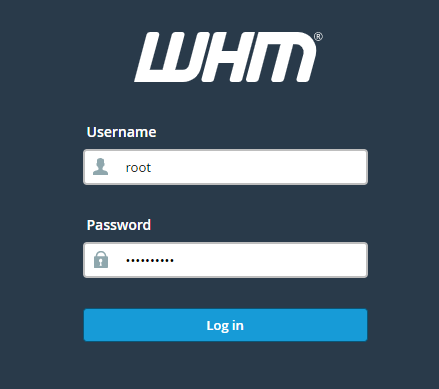 If that doesn't work, you'll need to know your server's IP address.
Note: The Advanced tab will load your cPanel. Legacy accounts will feature a horizontal navigation bar at the top of the screen, while Bluerock account users will see a vertical navigation menu on the left-hand side of the screen. To learn more, please see Bluerock vs. Legacy.
Bluerock
Before you begin, please log in to your Bluehost control panel.
Click the Advanced tab from the side navigation menu to the left.
From the left side, navigate to the General Information section to locate your Shared IP Address.

Legacy
Log in to your Bluehost control panel.
Under the hosting tab from the navigation menu that stretches across the top of your screen, click the Manage IPs from the submenu.
Look under the IP Address column for Primary Server.


That is your server's IP; with your server IP, you can log in to the WHM at either of the following URL's:
http://your.server.ip:2086
https://your.server.ip:2087 (For SSL login)
No matter which URL you use to access the WHM login screen, you must use the following credentials:
Username: root
Password: Your newly created root password
For further assistance, you may contact our Chat Support or Phone Support via 888-401-4678. You may also refer to our Knowledge Base articles to help answer common questions and guide you through various setup, configuration, and troubleshooting steps.