WordPress Pro: Marketing Center
---
What is the Marketing Center?
For WordPress Pro customers, one of the biggest differences between a standard Shared Hosting account and the elevated WordPress Pro account is the inclusion of an all-in-one Marketing Center built right into their Bluehost dashboard. 

The Marketing Center is the one-stop shop for customers to review the traffic performance of their WordPress website as well as review their site's performance regarding search engine optimization and social media activity. Bluehost has also provided a view of the overall posting activity of a customer's website so that they can see how active they've been in posting new content to their website.
 
What does the Marketing Center look like?
On top of these great review tools, Bluehost has also provided tools directly in the Marketing Center that will boost the level of control a WordPress Pro customer has over his/her website. Before WordPress Pro, users would need to leverage a variety of plugins and disparate control panels to manage social sharing, email marketing lists, or business reviews. Now, with WordPress Pro, users can manage all of those things and more from one centralized location.
 
What are the top features of the Marketing Center?
All-in-One Marketing Center

SEO Controls
Social Media Syncing
Blog activity Report
Email Marketing List
Business Reviews
Overview Page
The Marketing Center is a centralized dashboard for customers to view traffic stats and control the promotion activities of their website. This dashboard will automatically sync with Jetpack analytics upon the creation of an account; however, customers can also connect their Google Analytics account if they have their Google Analytics tracking ID.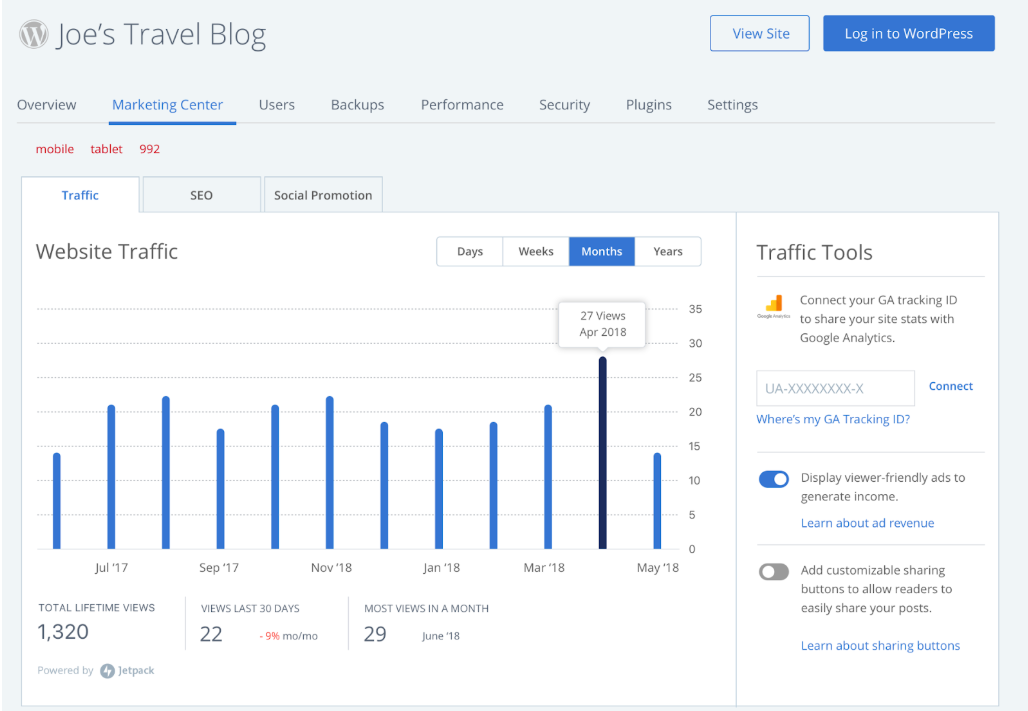 Business Reviews and Social Media
Business Reviews allow customers to embed common review websites like Yelp or Google Reviews directly on their website. Their visitors will be able to leave reviews directly from the customer's website rather than having to go to Yelp to do so. Website owners will also be notified when they receive a new review. 

Publicize allows customers to link common social media websites directly to their website so when a customer publishes a new post to their blog, it is immediately posted on the social media site of their choice. This saves customers time and energy when promoting their website across multiple platforms.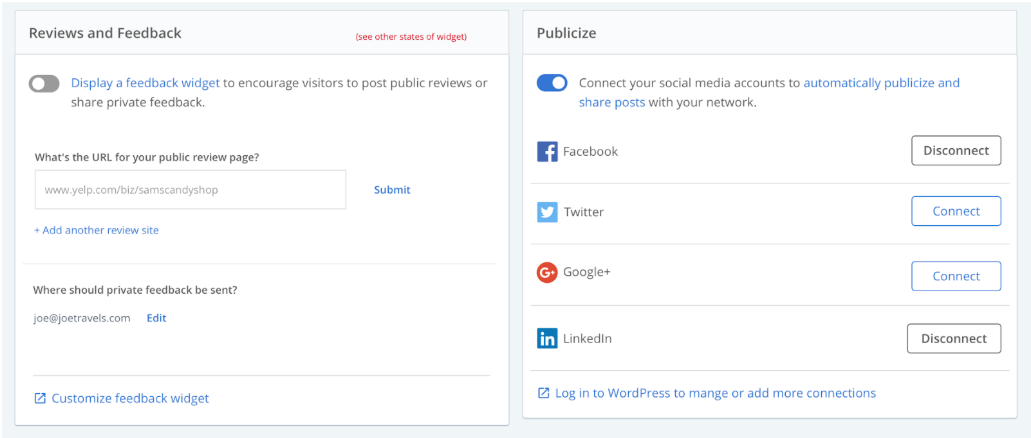 Blog Activity Report
Blog Activity Reports assist customers by providing a visual of how often they post. The more frequent activity on their blog or business site, the more likely they are to be ranked higher on search engines. This is a great way for new bloggers to monitor how active they are with their readers.

SEO Score
SEO Score is powered by Bluehost SEO Tools. It offers helpful tips and tricks to boost the SEO performance of any given website. Customers who upgrade to the Bluehost SEO Tools Grow plan will receive even more insights and proactive tips to improve their SEO performance.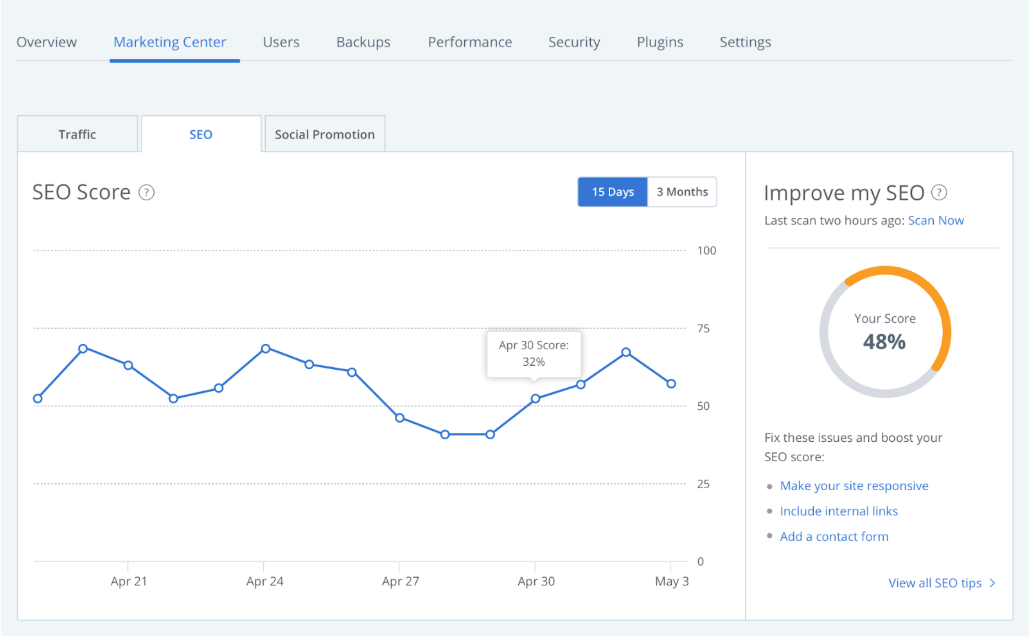 Email Marketing List
Customers who want to generate an email marketing list can do so by toggling the Email Subscription button for their website. This allows visitors to enter their email addresses to be notified of when the website is published live. After the website is published live, customers can use this functionality as a widget for their website and continue to grow their email subscription list. Customers of WordPress Pro will be able to download their list and use it on whatever email marketing platform they choose. CTCT, Mailchimp, etc.


If you need further assistance, feel free to contact us via Chat or Phone:
Chat Support - While on our website, you should see a CHAT bubble in the bottom right-hand corner of the page. Click anywhere on the bubble to begin a chat session.
Phone Support -

US: 888-401-4678
International: +1 801-765-9400
You may also refer to our Knowledge Base articles to help answer common questions and guide you through various setup, configuration, and troubleshooting steps.