10 Unique Uses of WordPress (Besides Blogging)
According to W3Techs' latest usage reports, over 42% of all websites use WordPress as their content management system.
Starting as a blogging platform, WordPress has evolved into a behemoth website builder. 
Endless WordPress themes, plugins, templates and new feature releases help you create WordPress websites for more than just blogging.
Whether you're new to this open-source platform and wondering what you can do with WordPress, or you're a WordPress expert looking for new ideas, keep on reading and learn what kind of websites you can make with WordPress. 
1. Create an E-Commerce Website
6. Use It As a Business Directory
7. Create a Charitable Website
Final Thoughts: What Can You Do With WordPress (Besides Blogging)
WordPress Ideas
Create an E-Commerce Website
Start a Forum
Build a Business Website
Host a Portfolio
Open a Job Board
Develop a Business Directory
Create a Charitable Website
Host a Review Website
Start a Podcast
Use It for Invoicing
1. Create an E-Commerce Website
Online shopping is on the rise. eMarketer estimates that e-commerce retail sales grossed a total of $4.280 trillion in 2020.
WordPress is the ideal platform for building an online store or adding a storefront to a personal blog.
The platform has plenty of e-commerce plugins, like the ever-popular WooCommerce, to make it easy for you to sell your products and run a successful business.
Shopify, a standalone e-commerce giant, also integrates with WordPress so that you can have a mini storefront on your website. With endless customization options, your users will never have to jump between your website and the storefront.
Or, you can add a WordPress blog to your e-commerce site and use affiliate linking — recommending affiliated products in your posts — to earn extra income. 
2. Start a Forum
A cool thing to do with WordPress is to start a forum where users with similar interests can connect, express opinions and share advice.
Starting a forum is a great way to turn a brand's existing customers into a loyal community of enthusiasts. Users can use your WordPress website to discuss ideas, share feedback and help other customers with their problems. 
In addition, your brand can answer questions, leading to a two-way communication model that builds trust.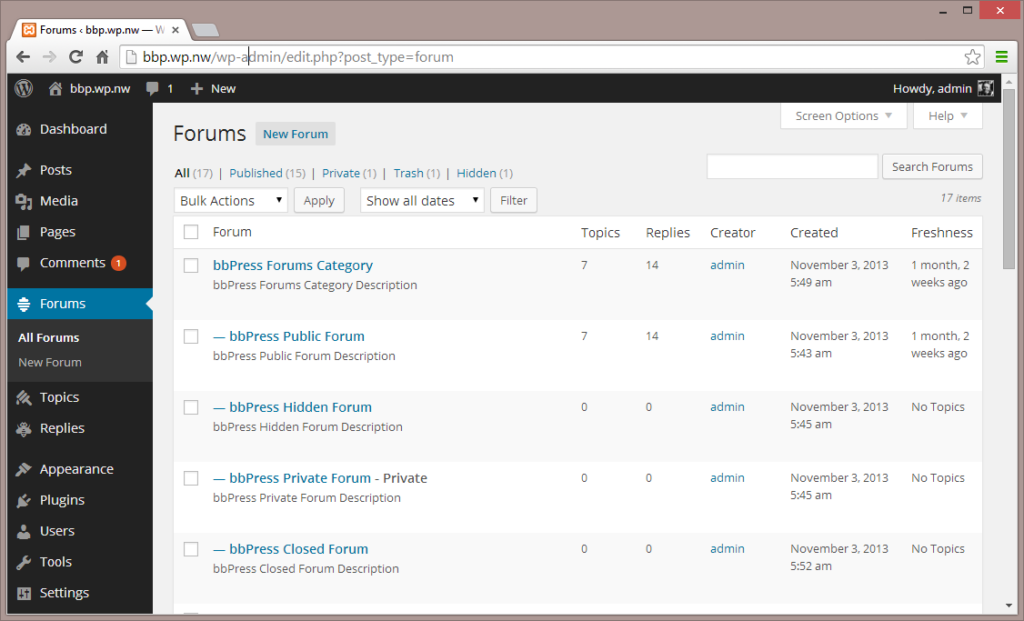 bbPress is a WordPress plugin that helps you create a streamlined discussion board on your own website. You can also create a micro-community or a social network to boost engagement and activity with plugins like BuddyPress.
3. Build a Business Website
Among the primary uses of WordPress and a pretty obvious answer to "what can you do with WordPress?" is to build a website for your business.
No matter the niche your organization operates in or the type of website you want to create, WordPress has got your back.
WordPress hosting is an excellent option for your business website with custom domain names, landing page and premium plugins, functional widgets, beautiful themes and templates and an extensive feature list.
Using plugins, you can add functionality to your websites, such as live chat for quick customer support, a rating and feedback system for a store and social media plugins to integrate with tools like Buffer — a social media account management tool.
Businesses dealing with large and complicated data — like WordPress.com and Cheapflights — can also create a WordPress multisite network, an entire network of websites managed on a single WordPress dashboard, to simplify website management.
You can use a business website to supplement your brick-and-mortar store with online sales and contact forms or to start an e-commerce venture.
4. Host a Portfolio
Still wondering what you can do with WordPress?
Consider hosting a portfolio.
A portfolio website is one of the best uses of WordPress. Artists, photographers and designers can show off their work to attract new clients.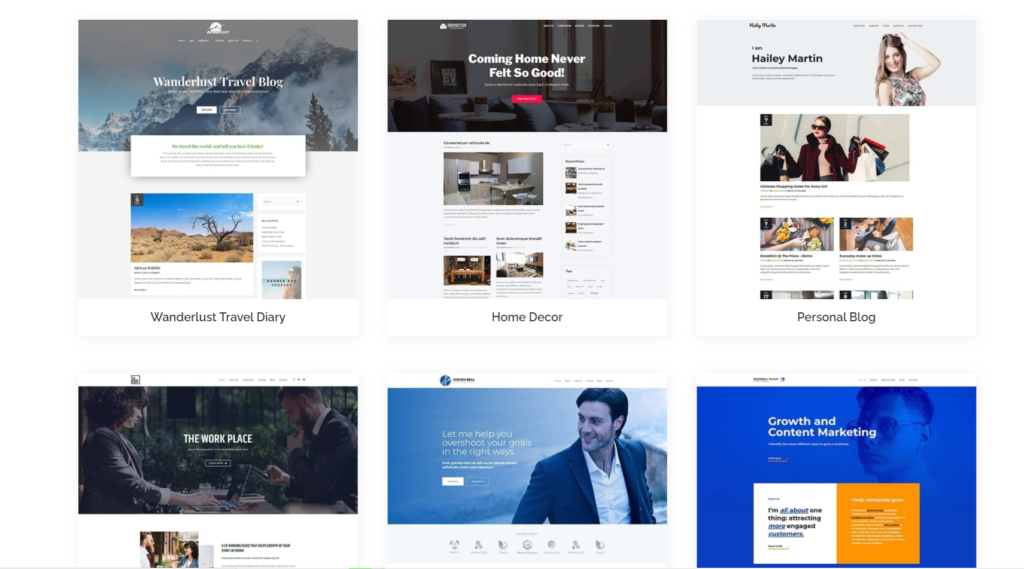 You can use one of the best WordPress portfolio plugins, such as WP Portfolio and Go Portfolio, to highlight your work at a reasonable price. Most of these plugins also have premade templates and a plethora of customization options to help you develop a portfolio that resonates with you.
5. Open a Job Board
If you have experience in your industry and want to help out others within your community, a great WordPress idea is to create a job board to list open positions.
Use your experience to weed out bad jobs with unreasonably low rates or suspicious requirements and gain credibility among your peers and juniors. Starting a job board is also a great way to build your network since companies might reach out to you to list their open jobs.
You can use plugins like WPJobBoard to develop your job board. Once you've built up a following, you can also start a membership site where WordPress users can sign up to receive daily or weekly newsletters about the latest jobs.
6. Develop a Business Directory
Among other cool things you can do with WordPress?
How does developing a business directory sound?
You can develop a WordPress website that lists businesses within a niche and their information — images, addresses and value proposition.
With the right WordPress plugins, you can also add dynamic maps, customer reviews and user photos to your WordPress business directory to improve user experience. These features turn a basic directory into a community-driven network of local businesses.
By developing a rating-driven community directory, you can help people find highly-rated businesses in their area.
7. Create a Charitable Website
Non-profit organizations can capitalize on WordPress's wide variety of themes and templates to create a user-friendly website that represents their cause.
Supporting brands can add crowdfunding links to their website or blogging interface to rally audiences and lend their support to worthy causes.
Also, WordPress has a variety of plugins to support charity organizations and their efforts. For example, every charity website needs HTTPS and SSL to ensure security, boost donor trust, and prevent information theft. Using WordPress security plugins, you can acquire both easily.
Here's a step-by-step guide on how to create a charity WordPress website to help organizations.
8. Host a Review Website
Hosting a review website is another standard answer to "what can you do with WordPress?"
Reviews are crucial for businesses and e-commerce websites. 91% of respondents to Bizrate Insights' 2021 survey said that they read at least one review before deciding on a product, business or service.
A high rating was the most important factor in purchasing decisions. 
What can you do with WordPress through a review website?
By establishing a review website, you can review products across one or more niches to inform consumers and gain credibility as a trusted reviewer.
Within your reviews, you can summarize customer ratings of products on popular websites like Amazon and link to video tutorials, so your readers get all the essential information in one place rather than jumping from one website to another.
When you've established yourself, customers will visit your website before they make any purchases. It is an excellent method to grow traffic and gain a following.
For additional income, you can also review and recommend affiliated products.
9. Start a Podcast Website
According to Triton Digital and Edison Research's The Infinite Dial 2020®, more than one-third of Americans aged 12+ (104 million) regularly consumed podcasts in 2020.
Podcasting has become an excellent medium for content consumption, with many brands and influencers creating podcasts to educate and connect with audiences. 
But your audience also needs to find you. A website makes it easy for a listener to search for you, read about your work or enlist a brand's services after listening to a podcast. You can also link your WordPress website to your podcasting platform of choice.
You can practice basic search engine optimization (SEO) on your podcast website to increase your chances of attracting new listeners — for which there are SEO plugins on WordPress to help you out. 
In addition, a podcast website helps with podcast management. A podcast website on WordPress lets you categorize your episodes and host a calendar with upcoming podcasts or special events to keep readers interested.
10. Use It for Invoicing
Among the other uses of WordPress, you can create an automated invoicing system on your WordPress site to save time on administrative tasks. 
If you're a freelancer or small business owner with multiple clients, you can get paid on time without wasting time on manual invoice creation and delivery.
Businesses can also use WordPress to build an invoicing system that streamlines their invoice workflow and saves hours of unnecessary work.
Like most things you can do with WordPress, plugins make life a lot easier for invoicing too. WooCommerce PDF Invoices & Packing Slips and Sliced Invoices are two plugins that can help you create, customize and send invoices in minutes.
Final Thoughts: What Can You Do With WordPress (Besides Blogging)
Among the hundreds of uses of WordPress, we've covered just a few popular options. While your WordPress website can be as simple or complex as you want, WordPress has all the features to help you set it up and keep going. Unleash the best of what you can do with WordPress with our managed WordPress hosting packages that offer one-click WordPress installation.