Free vs Premium WordPress Themes: Which One Is Best for Your Business?
Steve Jobs, the co-founder of Apple, once said, "Design is not just what it looks like and feels like. Design is how it works."
While WordPress is a famous website builder, your theme of choice plays a significant role in other factors beyond website appearance. Among these factors are user experience, website structure and functionality and maintenance ease.
For that reason, choosing the best theme for your business website can be a mind-boggling experience. After all, there are tons of free WordPress themes that could help you save costs and premium themes with exclusive benefits.
So, free vs. premium WordPress theme — which one is better for your business?
To help you decide, we'll give you a solid free vs. premium WordPress theme comparison, where we'll highlight the benefits of each and what you get for your choice.
Here's an overview of what we'll cover:
Understanding Free vs. Premium WordPress Themes
Free vs. Premium WordPress Themes: Advantages and Disadvantages
Should You Pay For a WordPress Theme?
Final Thoughts: Free vs. Premium WordPress Themes: Which One Is Best?
Understanding Free vs. Premium WordPress Themes
To start, let's go over free and premium WordPress themes and their advantages and disadvantages.
Free WordPress themes are themes produced by independent developers and are available to everyone free of charge. You can find them on the official WordPress.org Themes Directory.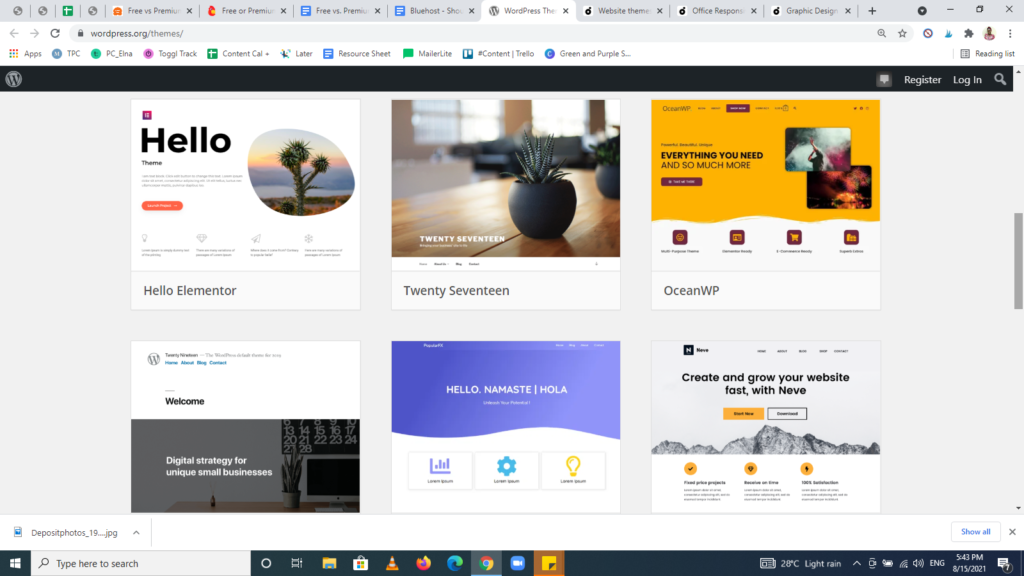 These WordPress themes are sometimes made as a preview for the premium themes of certain high-end theme vendors.
The WP Themes directory is not the only place to discover free WordPress themes online. There are several other free theme options. However, you should be careful about downloading and installing WordPress themes from just any source.
Premium WordPress themes, on the other hand, are not free. They are paid themes available for purchase from numerous third-party WordPress theme marketplaces.
When looking to buy a WordPress theme, here are some of the best WordPress theme shops to check out:
With that out of the way, let's see how free vs. premium WordPress themes fare against each other in terms of features, benefits and drawbacks.
Free vs. Premium WordPress Themes: Advantages and Disadvantages
When comparing free vs. premium WordPress themes, you're very likely to come across their strong points. However, both free and paid WP themes have disadvantages, too.
Let's go over them.
Free WordPress Themes
Below are the advantages and disadvantages of using free WordPress themes for your website.
Advantages:
Free WP themes have different advantages for WordPress users. Here are the benefits of free themes for website owners as opposed to buying a WordPress theme:
Free WordPress themes are completely free without any hidden charges or strings attached.
Free themes are strictly reviewed for adherence to the standard-compliant code, quality HTML and CSS and security before they're published on the WP theme directory for installation.
The installation process for free WordPress themes is more straightforward. That is because WordPress has made browsing and installing free themes smooth by giving you access to the WP theme directory.
Disadvantages:
While free WordPress themes offer some advantages, there are also downsides to using them.
These are:
Free themes are not unique. That is, different websites might have similar designs if they use the same free web design.
They offer limited support options. While free WP theme developers tend to provide support through WordPress forums, they rarely address user-specific queries.
You only have basic customization options. You may need some coding skills if you intend to make your website less template-y.
The free versions of WP themes generally have limited features. They lack great optimization settings and functionality like shortcodes, drag-and-drop builders and landing page setup.
Only a few update cycles take place in free WP themes. Having outdated theme features could lead to grave security breaches, malicious software and cyberattacks.
Why There Are Free WordPress Themes
With these limitations, you may be wondering why free WP themes exist.
Well, creating and sharing WP themes for free help theme developers:
Improve their skills
Build a portfolio
Establish credibility
Land paid clients
During the review process, The WP theme review team audits the code of these new themes and suggests improvements.
Premium WordPress Themes
Below are the pros and cons of buying WordPress themes for your website.
Advantages:
There are several advantages to buying a WordPress theme for your business website.
Here are the reasons why various businesses use premium themes all over the world:
Paid themes give website designs top-notch uniqueness due to unrestricted customization options. You can create custom, industry-specific websites that suit your brand style.
Premium WP themes are mostly high-quality themes. They are more superior in terms of privacy, security and compatibility than free themes.
The theme shops provide excellent support and step-by-step guidance during installation and beyond.
There are regular updates to paid WP theme features that enhance website security.
With premium WP themes, you get access to extensive and advanced features and customization options.
Disadvantages:
While buying WordPress themes offers several advantages, premium WP themes also have their downsides.
They are the following:
Since paid themes should be of a high standard, there is no official review process for premium WordPress themes. Therefore, substandard premium themes can hit the market and fool users.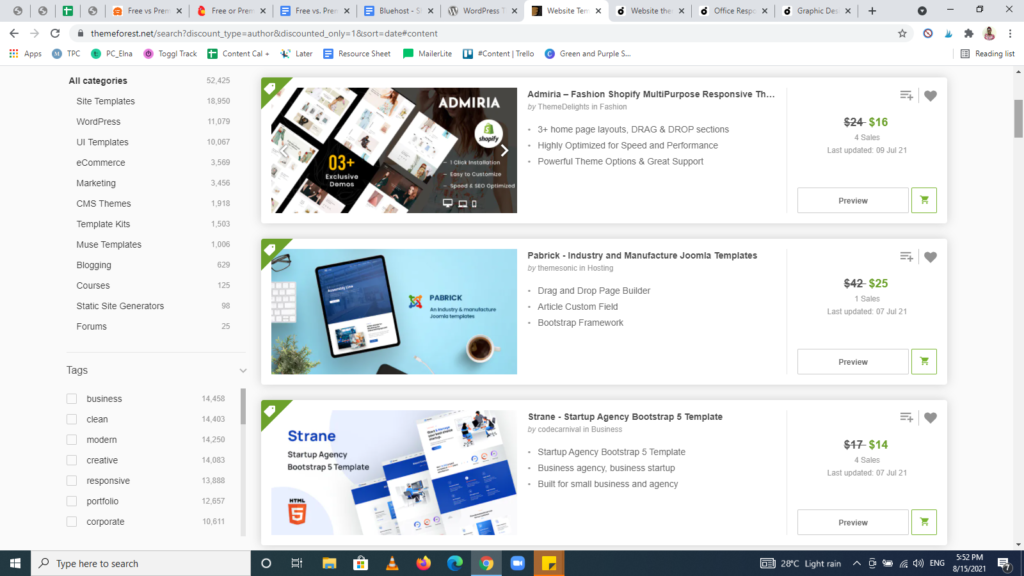 While premium themes have an extensive suite of great features, they may suffer from theme bloat. Theme bloat occurs when a theme is packed with too many features that lengthen its load time and hinder proper functionality.
Should You Pay For a WordPress Theme?
Yes, if you can afford to buy a WordPress theme, we recommend you go for it. After all, premium themes are usually well worth their cost. Whether you're a blogger, e-commerce entrepreneur, small business owner, or part of a large enterprise, your business deserves a high-standard website to help you grow.
Building a website for your business not only increases brand awareness but also helps you:
Drive prospects to your business
Organize your operations and offers
Build your credibility
Look professional
Offer support in the best way possible to your customers.
However, if you're still debating whether buying a WordPress theme is necessary after deciding to set up a WordPress site, don't worry.
We're going to give you a free vs. premium WordPress theme questionnaire containing questions you should ask yourself before making that decision.
Free vs. Premium WordPress Themes: Things To Consider Before Choosing One
Buying a WordPress theme takes some consideration. So, before you choose a theme, ask yourself these questions:
Do you want a one-of-a-kind website that looks industry-specific, or do you not mind having a website with basic templates?
Are you looking for fully customizable features, or are you a tech-savvy person who knows how to write code?
Will you need further support in the long run, or can you handle WP issues independently?
Is it a personal blogging or professional website? Can you afford to skimp out on security?
The benefits of using a premium vs. a free WordPress theme are great. Overall, using a paid theme provides more functionality for your business website.
However, we advise that you consider your WordPress website needs, in terms of theme, based on the questions above to make a choice.
For instance, a hobby blogger might be OK with a free theme, while an e-commerce store owner will most likely choose a premium theme.
We advise that you purchase your theme from trusted vendors when buying a WordPress theme, as some low-quality premium themes are available online.
Final Thoughts: Free vs. Premium WordPress Themes: Which One Is Best?
The advantages of paid WP themes far outweigh those of free WordPress themes. Although each has its cons, premium WordPress themes satisfy the needs of business owners.
When starting a WordPress website, it could be tempting to choose a free theme to save money. However, unless your project doesn't need more than a free theme, we recommend buying WordPress themes from a trusted vendor.
If you're done comparing free vs. premium WordPress themes and are ready to start building your website, don't forget to choose reliable hosting. After all, there's no point in having a great-looking website if visitors can't navigate it.
Check out our hosting packages and give your website's visitors the smooth user experience they deserve with Bluehost.