How To Automate WordPress With Zapier
Repetitive tasks on any workflow can be tedious. That is especially true for WordPress users who have to accomplish specific tasks like updating orders in a spreadsheet or keeping track of their WordPress posts.a
But here's the good news:
You can use tools like Zapier for WordPress to help you handle these tasks without your intervention. When you automate WordPress for crucial tasks, this will save you some time and energy and make your work simpler.
The best thing about Zapier is that you don't require any coding skills to use it. If you want to create a WordPress website, read on to learn how WordPress Zapier can relieve you of demanding tasks that you don't have to do manually.
Here's what we'll cover:
What WordPress Zapier Is and Why You Should Integrate It With Your Website
How To Create Your First WordPress Zapier Automation
Final Thoughts: How Zapier WordPress Integration Eases Tasks on Your Website
What WordPress Zapier Is and Why You Should Integrate It With Your Website
Zapier is an online tool that enables you to connect and automate tasks between applications. It helps you simplify tasks that you'd perform every day on your WordPress website.

To get you started, you need a Zap — which is a template that indicates what you want Zapier to do automatically. A Zap has triggers and actions. A trigger prompts the Zap to act, while the action is what the Zap does due to the trigger. 

Zapier works with thousands of WordPress plugins and apps, and you can choose to integrate your WordPress website to various tools, including Trello, Google Drive, Asana, Spreadsheets and Slack.
Automate WordPress 
Create a draft for a WordPress post from a new Google Doc
Create a Google Calendar for new posts
Post new WordPress posts to social media
Add WooCommerce orders to a Google Sheet
Get notifications for WooCommerce orders or comments on your posts
Back up WordPress posts to Dropbox
Share Instagram or YouTube posts on WordPress

As we have already mentioned, thousands of Zaps integrate WordPress with different apps and plugins. But here are some of the essential WordPress Zapier automations you can apply to your website. 
Create a Draft for a WordPress Post From a New Google Doc
Most writers prefer to draft posts in a text editor before transferring content to WordPress. But sharing a document with your blog can be a hassle. Therefore, it makes sense to have an app that automatically moves the content to your WordPress website.

If you're using Google Docs as your text editor, you can create a Zap that helps you automate the process.
Create Google Calendar for New Posts
If yours is a busy website with lots of content and different authors, a content calendar is crucial. It lets you keep track of your posts. 
Using Zapier, you have every new WordPress post added to your Google Calendar. It should also help you see the posts you need to publish or what has been published and when.
Post New WordPress Posts to Social Media
One of the best ways to share information from your website is through social media. Using Zapier, you can communicate with readers and reach new people.

Since it would be time-consuming to post content both on your website and on social networks, Zapier makes it easy for you.

Every time you have a new post, it's automatically shared on social media platforms, including Facebook, Pinterest and Twitter. That way, you won't have to go to each platform and do it manually. 
Add WooCommerce Orders to a Google Sheet
Adding information manually on a spreadsheet can be nerve-wracking, especially if you need to do it often. It's no surprise that Google Sheets Zapier integration is widespread among those wanting to create a new e-commerce store. 
It helps you set up workflows by automatically sending information to a spreadsheet. It saves you from the time-consuming task of copying and pasting data from one app to the other.
If you're operating a WooCommerce store, you might want to log your data into a spreadsheet to keep track of your orders. Zapier automatically helps you add new orders to a Google Sheet, so you don't have to do it manually.
Get Notifications for Woocommerce Orders or Comments on Posts
With Zapier WordPress integration, you can have a WordPress trigger that activates notifications for new orders. 
When there's a new comment on your posts, you can also have a WordPress trigger to receive comment notifications. 
You can choose the way you want to receive these notifications, including through emails and text messages.
Back Up WordPress Posts to Dropbox
You need a backup plan for your website in case something happens and you lose the data.  
But you may also need individual backups for your posts to protect your content. You can instruct Zapier to automatically back up individual WordPress posts to your Dropbox and detail the kind of posts you want Zapier to look out for.
Share Instagram or YouTube Posts on WordPress
If you use an Instagram profile for your business, the Instagram Zapier add-on is for you. With Instagram Zap, you can automatically post your new Instagram photos to your website. 
It happens in such a way that when you post a new photo on Instagram, Zapier automatically pushes it to your blog as a new post. 
Business owners who use YouTube for marketing their website can use Zapier to post YouTube videos to WordPress. The YouTube post can be saved as a draft, or it can go live immediately.
How To Create Your First WordPress Zapier Automation
If you have not used Zapier before, it's straightforward to use, and no coding is required. There are thousands of Zap options on Zapier and a vast library specific to WordPress.

You might need to search the Zapier library for the app you need to integrate to WordPress, or you can browse its catalog to see the functionality options.

While every Zap is different, you use the same process to create any Zap you want. What makes it even easier is that Zapier walks you through the process step by step.

Here is a guide to creating a WordPress Zapier automation:

1. Create a User for Zapier on WordPress
Sign up for a Zapier account. It is free to set up.
Go to your WordPress admin dashboard.
Go to Users, then Invite New.
On the Add User page, enter Zapier as your username and create a secure password.

Note: For Zapier to trigger any actions on your website, remember to set the user role either as Administrator or Editor. 

Remember to click on Add New User to finish the process.

2. Choose the Zap You Want
For instance, you can create a zap that automatically sends updates via email to your Gmail account every time there is a new comment in WordPress.
3. Create the Trigger
Once you choose the app, it takes you to a page where you can select the triggering event — in this case, a new comment.

After choosing the Trigger Event, click Continue.
4. Connect Your WordPress Account to Zapier
This step requires information from your WordPress website. So, click the Sign in to WordPress button.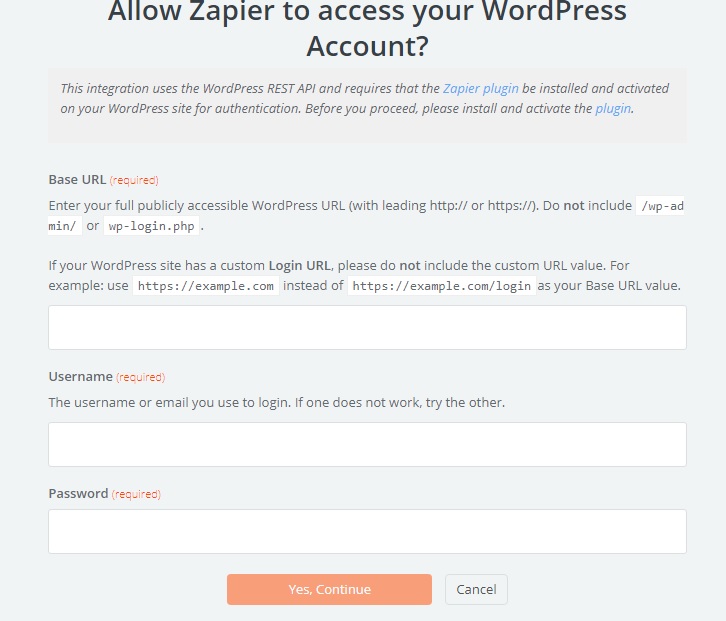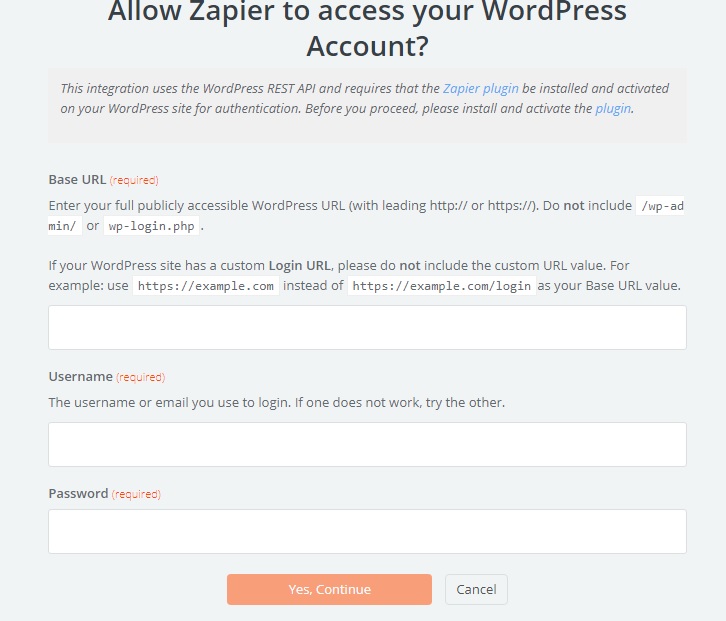 Enter your website URL and the username you created (Zapier), plus the password. Next, select Yes, Continue.
That takes you back to the Zap setup screen. Click Continue to move to the next step.

5. Customize Your Trigger Events
Customize your trigger events and click Continue.
6. Test Your Settings
You have several options when it comes to testing. You can choose to Skip, Test & Review and Test & Continue.
We recommend that you test and review your settings before continuing with the rest of the process.

7. Create an Action
The next major step is to choose the app that will trigger the action triggered by the event you set. In this case, we selected Gmail.
Zapier guides you through the steps which are similar to setting up the trigger event. When you're done with these settings, test your new Zap and finish the setup process.

Your Zap is now ready. You can turn it on, and if you're not satisfied, there is an option to go back and edit from the dashboard.

Final Thoughts: How WordPress Zapier Integration Eases Tasks on Your Website
Zapier WordPress integration will help you with maintaining your website or blog. You can automatically create, share and keep track of your posts.
When you automate your WordPress site with Zapier, you allow the tool to eliminate distractions as you develop your website. It saves you a lot of time, so you can concentrate on other important tasks like creating great content and marketing your business.
Zapier works with thousands of apps, and we have only discussed a few possibilities. 
Let us know if there are other WordPress tasks you'd want to automate using Zapier in the comments below. Here at Bluehost, we want to help you expedite the growth of your online business. For more insights, contact our expert team today.