Managing Sales Leads: 8 Tips for Effective Sales Leads Management
About 52% of salespeople struggle with lead generation for their companies.
But that's not the only problem.
Only 35% of businesses have a lead nurturing program in place. That means most companies don't have a way to manage prospects efficiently. It's harder to convert leads to paying clients without an effective lead management system.
But what exactly is a sales lead management system? How do you manage sales lead effectively?
Keep reading to find:
The Stages of the Sales Lead Management System
Final Thoughts: Sales Lead Management 101: 8 Tips To Manage Sales Leads
Sales Lead Management
Sales lead management refers to the steps involved in finding and managing sales leads until they make a purchase. A sales lead management system empowers businesses to build potential qualified clientele and optimize sales opportunities during the process.
Sales leads are your business's potential customers — people or companies who could become your clients.
The Stages of the Sales Lead Management System
The sales, or lead management system, determines whether you'll have an effective sales workflow.
There are five stages in the sales lead management system. They are: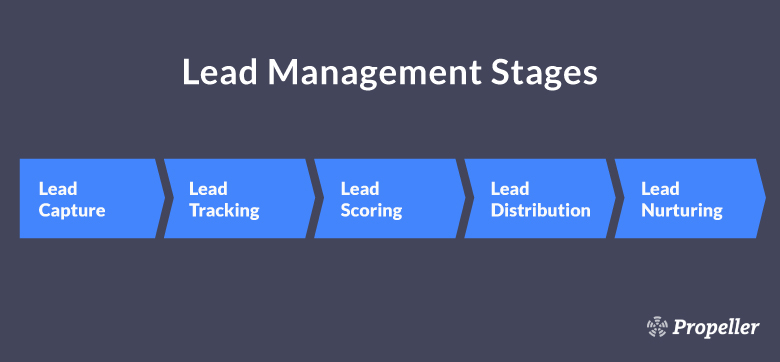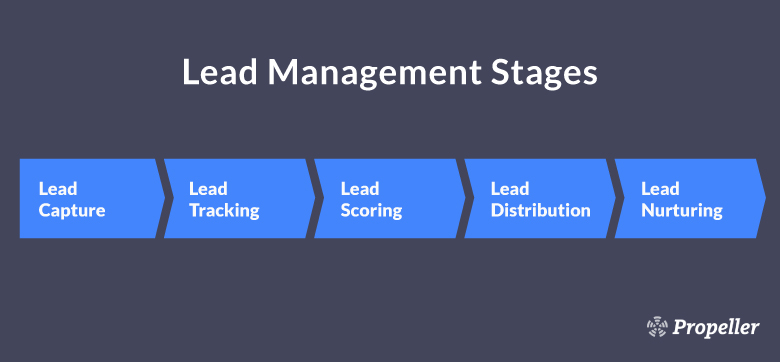 Lead Generation
Collecting leads is the first step in managing sales leads. You must acquire prospects before you can convert them to customers.
Lead generation, also called lead capture, is the process of collecting new leads for a business.
To generate leads for your business, you can:
Compile a list of qualified prospects
Use gated content like e-books and webinars to get leads into your sales funnel
Include enticing calls-to-action (CTAs)
Offer incentives for sign-ups
Add contact information or a contact form so users can ask questions
Lead Tracking
You should keep tabs on your leads' activities and behavioral patterns on your website. That's necessary because knowing your leads will determine your outreach approach, marketing channels, and messaging to turn prospects into paid customers.
To manage sales leads, your marketing team should track:
Where your leads are coming from
What content they engage with
The kind of actions they take
Which pages they visit
What CTAs they click
Which stage they are in the buyer's journey
Lead Scoring
Lead scoring is the process of rating your leads to determine the probability they'll buy from you.
You can develop a lead scoring system based on several factors such as:
Job title
Income
Goals
Challenges
Interests
Lead scoring empowers you to select the best leads who qualify as strong prospects. It lets you focus on converting high-quality leads to increase sales and revenue.
Lead Distribution
After scoring your leads, the next step in managing sales leads is distributing them.
Depending on your leads' stage in the buyer's journey, you can:
Pass them to a sales representative
Add them to different email marketing campaigns
Qualified leads come in four categories:
Information qualified leads (IQLs)
Marketing qualified leads (MQLs)
Sales qualified leads (SQLs)
Sales-ready leads (SRLs)
IQLs and MQLs still require more information and persuasion, so you can add them to campaigns. Conversely, you can pass SQLs and SRLs along to a sales rep.
Lead Nurturing
Lead nurturing is an essential step in managing sales leads. According to Ascend2, 69% of businesses nurture leads through email campaigns, but you can use other means like social media, mobile automation, and paid ads.
Nurturing your leads is key — not only for increased sales but brand trust too. Your nurturing process should depend on your leads' stages in your sales funnel and buyer's journey.
For instance, IQLs may be interested in identifying their pain points, while MQLs may be interested in knowing how your offer can solve their pain points. And SQLs might want to know more about your product's pricing.
How To Manage Sales Leads
Define your potential leads
Determine your lead generation sources
Install a customer relationship management (CRM) tool
Obtain necessary information through questions
Segment your leads
Create urgency in your sales cycle
Nurture your leads
Improve your sales lead management through analytics
Managing sales leads requires you to put effective measures in place. While there's a long list of processes for sales lead management, here are the eight most effective tips on how to manage sales leads for your business.
1. Define Your Potential Leads
Be intentional about knowing who your ideal customers are. Learn about their:
Demographics
Interests
Challenges
Pain points
Goals
Figure out their psychographics as well. Where do they hang out? What do they like doing?
That will help both your lead generation and management processes. Because you know where to find them online and what interests them, you'll be able to collect them as leads.
And since you know what they want, you can create messaging that resonates with them.
2. Determine Your Lead Generation Sources
Identifying and evaluating your lead generation sources will help you discover the best marketing channel for your business.
It will also help you focus your resources on high-value sources so you can get the best return on investment (ROI) for your lead generation efforts. Furthermore, you can maximize and avoid wasting your marketing budget and time.
You can use Google Analytics or similar websites to evaluate your traffic sources. Make sure to check it regularly.
3. Install a CRM Tool
Connecting your website with CRM software will help your sales lead management process. Once your lead capture tools integrate with your CRM, your company will be able to access registered leads and their contact details.
Those details will help you create personalized content your leads will find useful down the sales funnel. Your CRM will empower you to build meaningful relationships with your prospects.
4. Obtain Necessary Information Through Questions
When it comes to managing sales leads, your scoring process should involve questioning. Asking questions enables you to not only score but segment your leads efficiently.
Ask your leads questions like:
How can [your company] be of help to you?
What interests you about [your product/service]?
In what way would you consider [your product/service] effective for your business?
What problem are you looking to solve with [your product/service]?
Make it easy for prospects to get in touch with your sales reps — and for your sales reps to reach out to your core decision-makers.
5. Segment Your Leads
To manage your sales leads, use email list segmentation to improve personalization. Dynamic Yield found that over 60% of North Americans will respond favorably to a personalized email.
Segmenting a list can be done using CRM software or manually based on an opt-in source (or any other factor). HubSpot found that segmentation can improve the performance of all your email marketing key performance indicators (KPIs).
You can group your leads based on their:
Interests
Pain points
Stage in the buyer's journey
Lead score
6. Create Urgency in Your Sales Cycle
Creating a sense of urgency is a great sales lead management tactic.
Since 60% of people make purchases within 24 hours as a reaction to FOMO (fear of missing out), you have a better chance at engaging your leads and converting them by creating a sense of urgency in your sales lead management system.
7. Nurture Your Leads
Lead nurturing is vital when managing sales leads. Ascend2 found that 36% of businesses nurture leads to improve lead quality, and 19% do so to shorten the sales cycle.
Follow up with your leads regularly to improve your bottom line. You can nurture your leads through several channels, including:
Emails
Social media posts
SMS messages on social channels
8. Improve Your Sales Lead Management Through Analytics
Ensure that your sales team tracks your sales lead management metrics. You can do that using a combination of effective tools, including a CRM system, email marketing platform, and Google Analytics.
Use your analytics to make informed decisions in every aspect of managing sales leads for your business.
Final Thoughts: Sales Lead Management 101 — 8 Tips To Manage Sales Leads
Sales lead management is a crucial process for both small businesses and large enterprises. Using our guide, you can take results-driven actions on how to manage sales leads for your business.
From lead capture to tracking, scoring, distribution, and nurturing, ensure that every action pushes a lead down your sales pipeline until they become customers of your business.
Meanwhile, having a website is crucial for lead generation. Check out Bluehost's hosting packages today.