Top Online Marketing Groups To Join
Napoleon Hill, the author of "Think and Grow Rich," once said, "No mind is complete by itself. It needs contact and association with other minds to grow and expand."
In his book, Hill encouraged the formation of mastermind groups to share ideas. He reasoned that we have limited experiences on our own, but we draw on others' ideas and experiences with a mastermind group.
If together, the power of our thoughts and experiences magnify, the best thing you can do is connect with like-minded individuals. As marketers, not only can this help your career grow, it can also help you stay on top of the latest trends.
But how can you connect with other marketers when finding the time and social distancing make it difficult?
Online marketing groups. They're the best way to upskill yourself and keep up with industry news.
If you have had a hard time finding online groups to expand and share your marketing knowledge, don't worry. We've compiled some of the best marketing groups for you to join.
Here's what we'll cover:
Marketing Groups
Indie Hackers
Moz
Growth Hackers
These are some of the best marketing communities available. Keep reading to learn more about them.
1. Indie Hacker
Indie Hackers is a marketers group that has helped over 30,000 entrepreneurs create profitable businesses.
The group allows community members to share their knowledge and experiences, as well as offer guidance on various topics. In addition, group members have access to podcasts, meetups, tutorials, and webinars on business ideas, productivity, and finding customers.
The payment platform Stripe acquired the company in 2016.
To join, sign up for an account on the Indie Hackers website.
2. Moz
The Moz Online Community is an excellent group to join if you want to learn more about search engine optimization (SEO).
Members can explore the forum, but only Moz Pro members (or those who have accumulated over 500 Moz points) can post questions. You can earn Moz points if you participate in forum discussions or contribute to the Moz blog.
3. Growth Hackers
Growth Hackers is a forum where over 25,000 members share advice on growth hacking and tech. Moreover, the group conducts a yearly conference to share member experiences.
You can also use Growth Hackers to find networking opportunities and means to connect with thought leaders.
LinkedIn Marketing Groups
LinkedIn is the world's largest professional network.
With over 450 million users from 200 million countries, it's the perfect place for marketers to network and nurture professional relationships. There are several ways to market yourself on LinkedIn, but you can also use LinkedIn Groups to foster connections with marketing pros.
Here are some of the best and biggest marketing groups to join:
1. Digital Marketing
Digital Marketing is the top LinkedIn resource for anything related to digital marketing, with nearly two million members.
In the group, you can connect with experts, join networking events, and participate in group discussions that cover any of the following topics:
Mobile marketing
Online advertising and public relations
Web analytics
Join the group to find industry reports and white papers about any of the abovementioned topics.
2. Inbound Marketers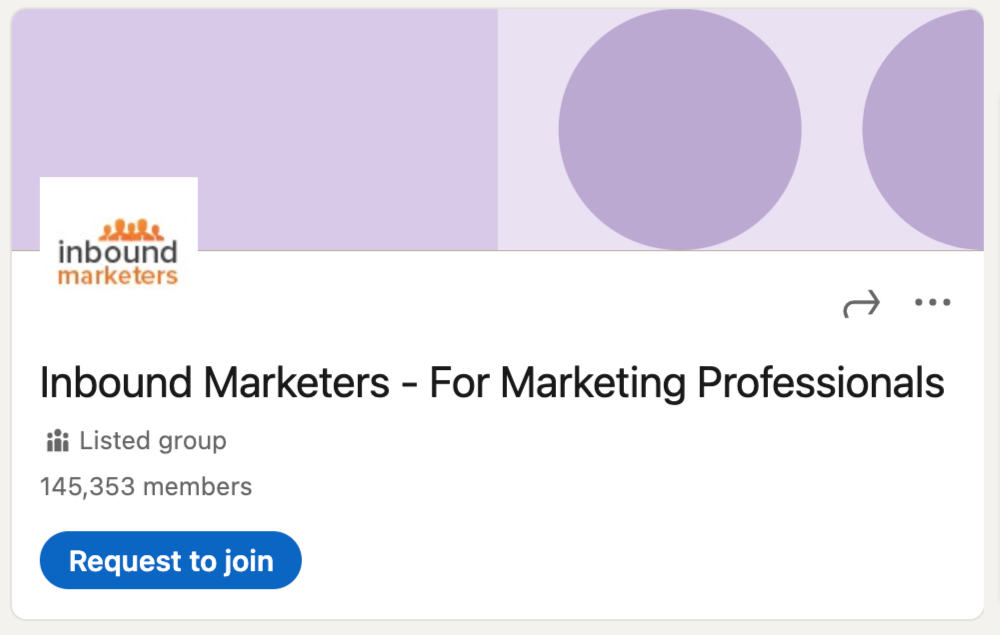 Dharmesh Shah, founder and CTO of HubSpot, owns the Inbound Marketers for Marketing Professionals LinkedIn group.
A community of 145,000 inbound marketers makes up the group. It's a great place if you're looking to reach customers using inbound marketing strategies like lead generation, SEO, and social media.
On top of that, there are plenty of posts revolving around marketing news and recommendations.
3. Designers Talk
Designers Talk is the perfect LinkedIn group to connect with creative professionals or learn more about the industry.
After all, design is an essential part of marketing. It takes a creative professional to ensure visuals complement the information you put out.
Group discussions involve sharing ideas and going over the latest industry news about graphic and web design, user experience (UX), user interface (UI), brand development, and photography.
Facebook Marketing Groups
Facebook may have the largest user base out of all social networking websites, but it's not the first one most people would turn to for professional growth or industry connections.
Unlike LinkedIn, which is known as a professional network, joining Facebook's online communities is hit or miss. For that reason, you sometimes have to dig deep to find real gems like the following marketing groups:
1. Digital Marketing Hub
Digital Marketing Hub is a public Facebook group with over 44,000 members discussing digital marketing, growth hacking, and entrepreneurship. It is led and managed by Prateek Shah, founder of Digital Defynd, an e-learning platform.
Moderators are very active in ensuring the group stays spam-free. Group posts include Q&As, polls, and interviews.
2. SaaS Growth Hacks
SaaS Growth Hacks is an online Facebook community of more than 25,000 software as a service (SaaS) entrepreneurs. The group members motivate each other to build high-quality products.
SaaS entrepreneur Aaron Krall started the group because he wanted to create an environment where SaaS professionals, founders, and CEOs could support each other.
After becoming a new member, you can find discussions about marketing, entrepreneurship, and growth hacking. In addition, owners of large SaaS companies such as AdEspresso and Intercom give growth advice to group members.
3. SaaS Products and Marketing
SaaS Products and Marketing, a Facebook group of 13,000+ members, was founded by Tomer Aharon, a digital marketing professional with more than a decade's worth of experience. The group focuses on marketing, social platforms, and entrepreneurship.
The group's goal is to help founders launch products by giving them beginner and advanced tips and recommendations.
Slack Communities
Slack is a great tool to ease communication between business team members, but it also offers online networking opportunities through its Communities feature.
Unlike on other social networks, you can't just go on Slack and search for marketing groups. However, you can search for Slack communities to join on Slofile.
Once you find a community you'd like to join, you must apply to become a member and wait for approval. Keep in mind that some Slack communities require either a one-time or a monthly joining fee. 
Here are some of the best Slack communities:
Buffer is a social media management and scheduling software. It has a large, vibrant, and supportive social community that is also present on Slack.
The Buffer community discusses web development, blogging, and digital marketing.
2. #Backlinks
#Backlinks is a free Slack group with discussions focused on content marketing and how to get backlinks through guest posts. There are three main channels to keep posts separate, and the largest one is for guest posting, where you can find a Google spreadsheet link for guest posting opportunities.
Sign up for the #Backlinks Slack group.
3. Online Geniuses
Started by digital marketer David Markovich, Online Geniuses is the largest Slack community for marketers. What began as a free Skype chat group has become a resource for professionals in the digital marketing, SEO, and IT world.
With over 30,000 members, the group features live events and Q&A sessions from thought leaders and industry experts such as Gary Vaynerchuk and Guy Kawasaki.
Final Thoughts: Top Online Marketing Groups To Join for Networking
For a fast-paced industry such as marketing, one way to continually improve your craft is to seek knowledge constantly. Online marketing groups are a great alternative to meeting in person when looking for ways to learn from other people.
Did we miss any great marketing groups? Let us know which marketing groups you're part of @Bluehost.