Bluehost Migration Affiliate FAQs
---
How do I join the Impact Radius Affiliate Program?  
Create an IR account: If you don't already have an account set up in Impact Radius, click HERE to create your profile. We recommend having all your tax and company information handy to fill out the form thoroughly. At the end of the process, you need to validate your account through your email to ensure you have applied to the new program.  
If you already have an account created in Impact Radius, click HERE to sign up. Be sure to click on LOG IN to access your existing Impact Radius account.  


What is the application process? 
We aim to approve applications after a manual review in about 48hrs during normal business hours/ non-holidays.  
Will my internal Bluehost tracking link still work when moved to Impact Radius?  
Your tracking link, https://www.bluehost.com/track/username, will no longer be active after July 29, 2022. You have until July 29th to change your tracking links from our internal system to Impact Radius. 
 
What are the affiliate program's commission payout terms?  
Commissions are processed approximately 45 days after the end of the month in which the credit is recorded (or a qualified purchase was completed).  
Our Affiliate program only offers a one-time referral commission of $65 for each new and unique customer who purchases any of our 12-, 24- or 36-month hosting packages upfront. 
Bluehost.com, in its sole discretion, reserves the right to withhold and/or reject commission generated for accounts that may be fraudulent or are determined to have an excessive cancellation rate.  
 
Where do I find my new Impact Radius tracking link? 
After you've been accepted into the Bluehost.com Affiliate Program, you can find your tracking link by going to your Impact Radius dashboard and copying the link in the Create a Link box.  



If you would like the link to take your audience to a different landing page than in the Enter Landing Page field, you can generate a new one. Just indicate a landing page on Bluehost to which you'd like your link to send your visitors and hit Create. Your new link will appear below where it says, "Use the URL below." 


Where do I access my banner ads?  
To obtain your banner ads custom HTML code, simply log in to your Impact Radius dashboard, https://app.impact.com/login.user, and navigate to Content > Assets > Images. Click on the Get Ad Code or Get Tracking Link button that corresponds with the ad that you want to use, and a pop-up should open that contains your custom ad's HTML code. This is the code you will install on your website to display your ad.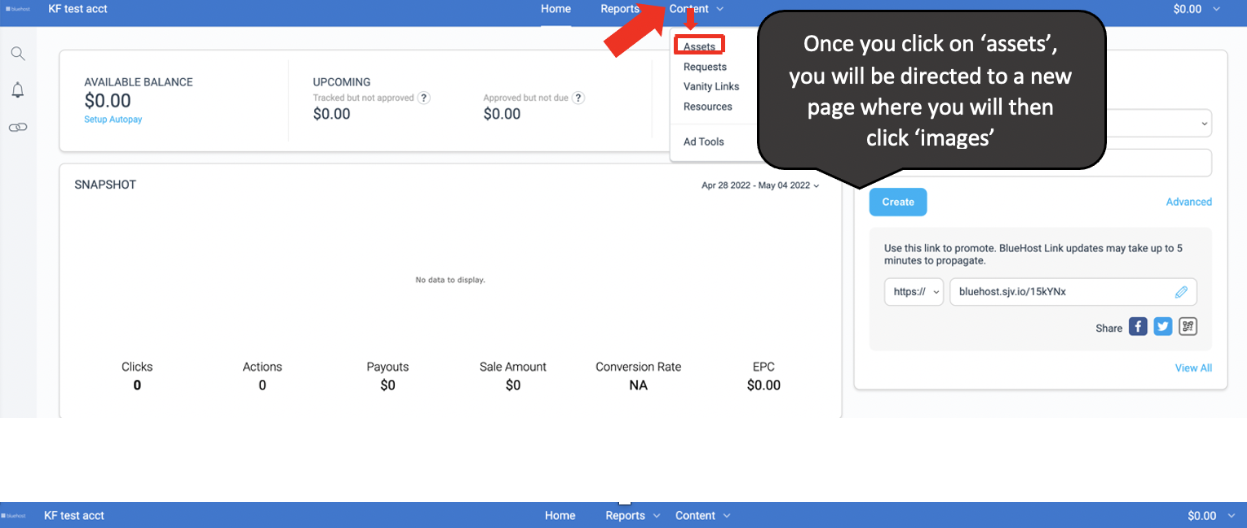 How do I set up my withdrawal settings?  
You cannot get paid without setting up how you want to receive your money.  
In the top nav menu, select Balance "0.00">Bank Account. You must set up two-factor authentication to access these settings. Next to Payment Method, select how you want to be paid - PayPal or Electronic Funds Transfer.  If you select Electronic Funds Transfer, you will need to fill in some bank details. If you select PayPal, you will need to enter the email connected to your PayPal account. There will also be a 2% processing fee that is capped at USD $20.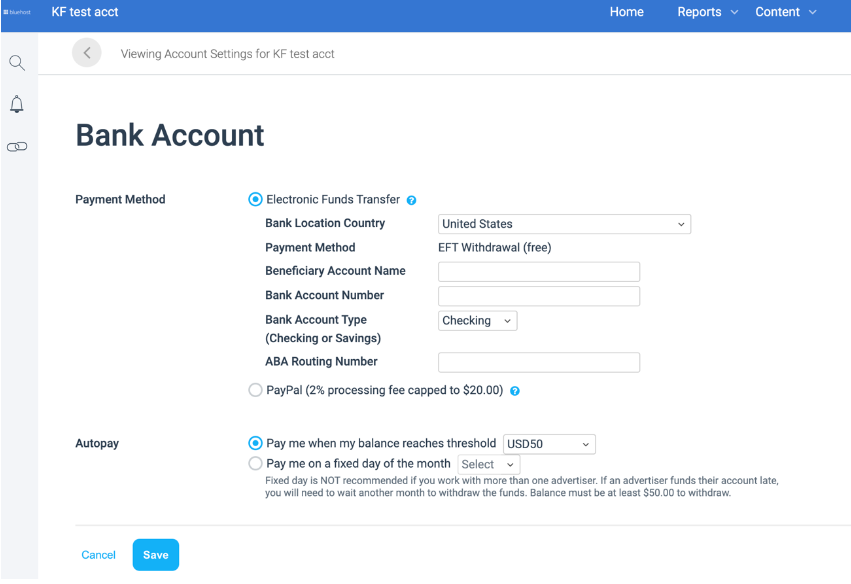 Will I have to submit a new tax form once I migrate to Impact Radius? How do I submit my tax form through Impact Radius? 
Affiliates are required to submit a tax form if they meet the following criteria:  
Any partner based in the United States 
Any non-US affiliate working with a brand based in the United States. 
In the top nav menu, select Balance "$0.00"> Tax Documents. 



Select the tax form option that fits your account type:  
Form W-9 is for any partner based in the United States. 
Form W-8 BEN is for individual foreign partners (i.e., not associated with or representing a company, organization, or entity) that are working with any brand based in the United States. 
Form W-8 BEN-E is for foreign companies, organizations, or entities working as a partner with any brand based in the United States.  
Select Continue to use the -app DocuSign secured frame to fill out the tax form fields highlighted in red. Double-check all info you have entered and select Finish to submit your tax form.  
 
Why is my credit (action) not tracked?  
Any actions tracked automatically have a 2+ hour delay from when the action is completed to when it will appear on your account dashboard.  
For any action tracked manually, impact.com relies on Bluehost to upload the actions to the platform. Since this is a manual process, delays can be expected.  
Actions can also be reversed, making the action ineligible for payout, and moving it to another area in impact.com.  
If an action occurs but does not appear on your Impact Radius account within 48 hours (about 2 days), reach out directly to [email protected]. Please include your client's full name, email address, and domain.   
Will my conversions and commission rate per signup transfer over?  
Your conversions will not transfer over. You will need to download a report of your stats/payout history by September 15, 2022.  
You can do this by logging into your internal Bluehost affiliate account, clicking on Stats > Payout History, and then clicking on Export to PDF or CSV in the upper right corner.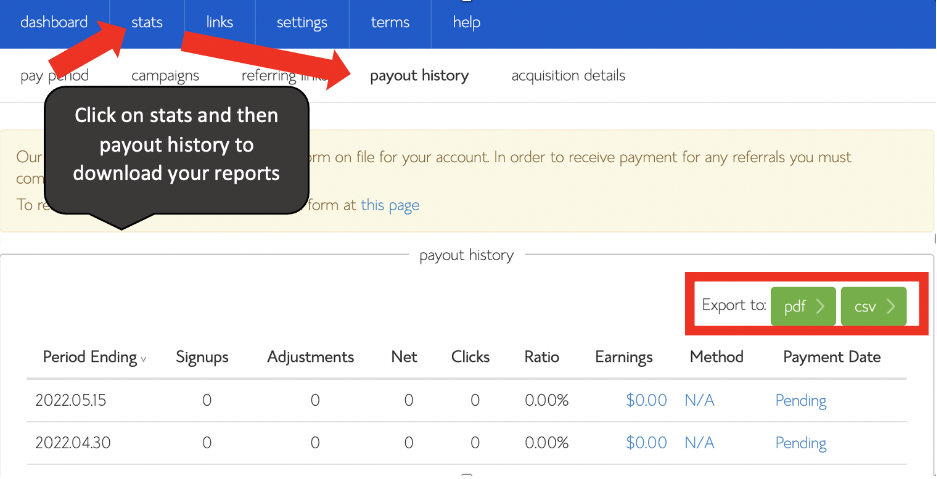 Do I need separate tracking links for Bluehost.in and Bluehost.com?  
You do not need two separate tracking links. If you are in India, you will be redirected to the Bluehost.in sign up page. 
 
I was denied for not enough content/ traffic?  
We require that applications be submitted with a functioning URL that has relevant content and seems to have some reasonable amounts of traffic driven to the site to ensure that both the affiliate and Bluehost have a mutually beneficial partnership.  
These are up to our affiliate team's discretion.