How To Login to Control Panel - cPanel & Billing Panel
You will need the appropriate username and password to log in using any of these methods. Your username can be found in the welcome email sent to you when your account was initially set up. If you did not receive this or have lost the Welcome Email, please contact our Support Department at 888-401-4678, and we will be happy to resend this email.
---
---
Logging In Through the Bluehost Website
Go to Bluehost.com.
Click on Login in the top right corner.

Enter your domain name or email address as the username. It can be any domain assigned to your account.
Enter your main account password.
Click the login button.

The simplest method for finding the login to your Control panel is to go to https://www.Bluehost.com and click on the Login button on the top right of the page. This will take you to the login page, where you can log in with your username and password.
 
Logging In From Your Website
If your domain is live on our servers, you can access your control panel from any browser by typing the following into your address bar:
Standard Login: http://example.com/cpanel
Secure Login: https://example.com/securecontrolpanel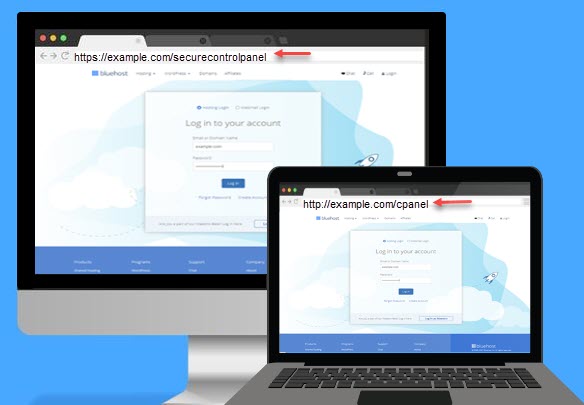 Note: You will need to replace "example.com" with your actual domain name.
Logging in Securely
If you need to log in to your box securely, you can use the following URL:
Secure Login: https://box#.Bluehost.com:2083
Note: You will need to replace the # with your actual Bluehost server number.
To find your Bluerock server number:
Open the Advanced tab from the side navigation to the left.
Locate the General information section towards the screen's far-right, then click the Server Information link.

The Server Name will show your box.

Problems Logging In
Unable to Log In
If you're not able to log in, you're most likely using incorrect login credentials. Double-check that you've spelled your domain name correctly, without the "www" but with the extension (e.g., example.com), and that your password is being entered exactly as it was created. Our passwords are case and character-sensitive, so make sure you haven't turned on your caps lock by accident.
Important Note: As a security precaution, a high number of failed login attempts within a few minutes will lock your account. If this happens, wait about two hours and then try again. If you've forgotten your password, please see How to Reset your Login Password.
Unable to Access Control Panel
The cPanel login uses port 2083, and occasionally this port is blocked by a personal or corporate firewall.
If you are receiving an error that the page could not be displayed when trying to log into the control panel. It is most likely because your firewall is blocking the port that the control panel uses.
Try using https://login.Bluehost  as an alternative. If this still does not work, you will need to contact your local administrator to open the ports (2083, 2082). You can check if this port is open by using our web-based port checking tool, Bluehost Port Test. Ports that are blocked will display a broken image instead of the green image.
If you need further assistance, feel free to contact us via Chat or Phone:
Chat Support - While on our website, you should see a CHAT bubble in the bottom right-hand corner of the page. Click anywhere on the bubble to begin a chat session.
Phone Support -

US: 888-401-4678
International: +1 801-765-9400
You may also refer to our Knowledge Base articles to help answer common questions and guide you through various setup, configuration, and troubleshooting steps.