What Is the Difference Between Addon Domain, Parked Domain & Subdomain?
---
---
What is an Addon Domain?
An addon domain is a fully functional domain that can be created from within your control panel. This addon domain is a new, unique website hosted in a new folder on your account so that you can host several domains from one control panel. You can give an addon domain email addresses, forwarders, and more the same way as a primary (main) domain on the account.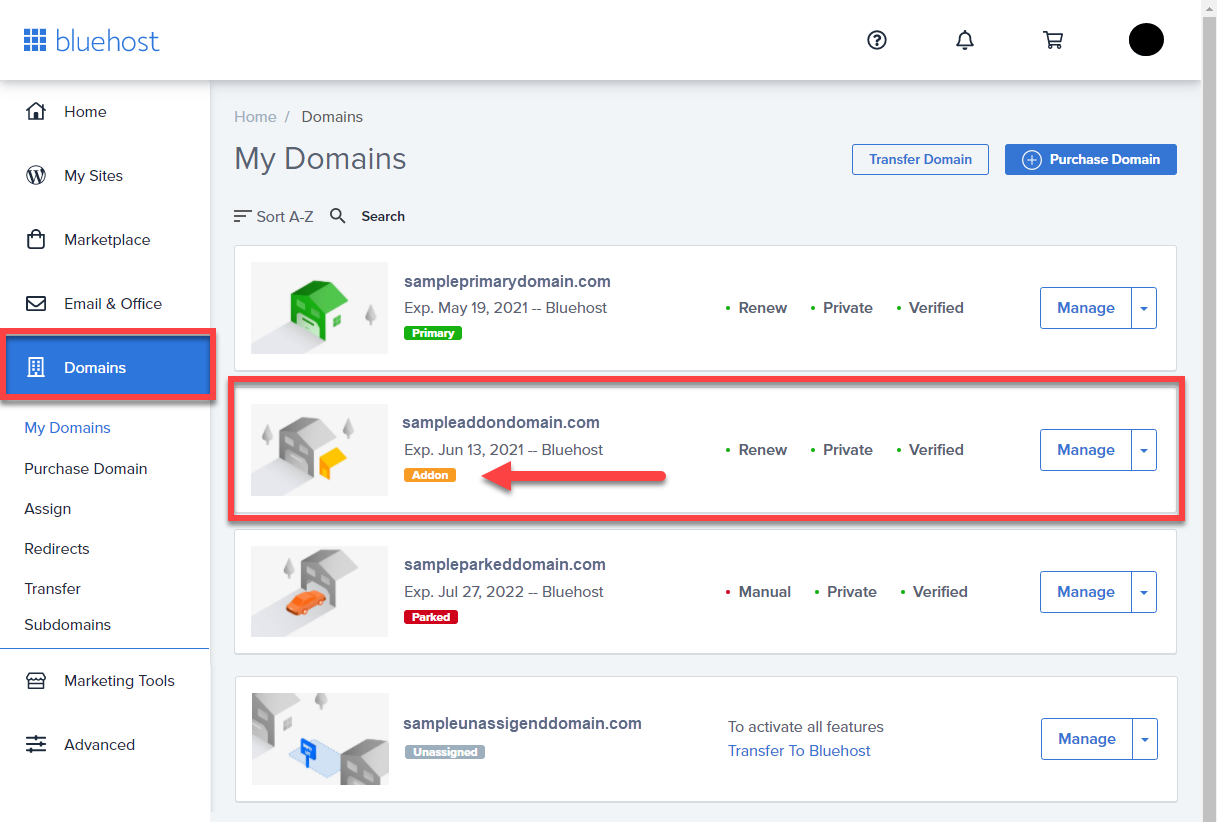 When you create an Addon domain, 3 things happen:
A folder is created in the 'public_html' directory
A subdomain is created for the primary domain and attached to the new folder
The new domain name is associated with the subdomain
For example, if the primary domain was 'abc.com' and you assign the Addon Domain' 123.com' to the folder '123', the following routes (URLs) would be true:
abc.com/123
123.abc.com
123.com
All three of these paths would access the same directory and show the same website. However, in concern to your website's viewers going to 123.com, there is no evidence that they are being routed through 123.abc.com, and everything will function as normal.
This all happens automatically when an Addon domain is assigned to an account; there is no need for further action necessary other than loading content into the addon domain folder.
Additionally, for those still concerned with 123.abc.com being active, there is a method in which you can disable the 123.abc.com route from accessing the site without disturbing the 123.com route. This can be found in our knowledge base article: Restrict subdomain access to addon domains.
What is a Parked Domain?
A parked domain is an alias of your primary domain — it points to the same website as your primary domain. Multiple domains, same website.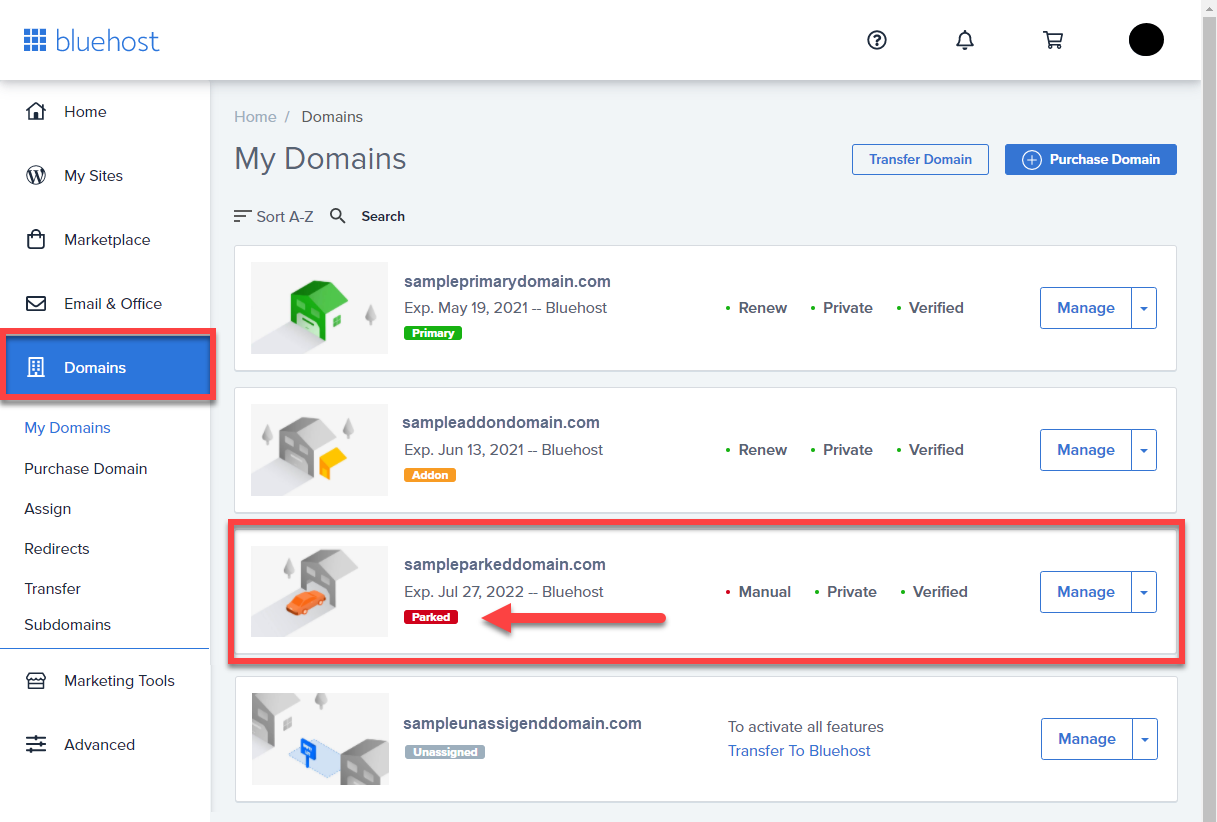 For example, if cars.com is your main website, you can purchase cars.net and assign it as a parked domain. If a visitor were to go to cars.net, they would see the same website as if they had typed cars.com.
In other words, both primarydomain.com/index.htm and parkeddomain.com/index.htm will point to the same webpage, "index.htm."
What is a Subdomain?
A subdomain is a prefix added to your original domain name, like a domain within a domain, usually following the form subdomain.example.com. They behave very similar to an addon domain and are often created to separate your website's different sections, such as blog.example.com or store.example.com.  
You can create a subdomain from Domains > Subdomains > Add Subdomain within your account as shown below: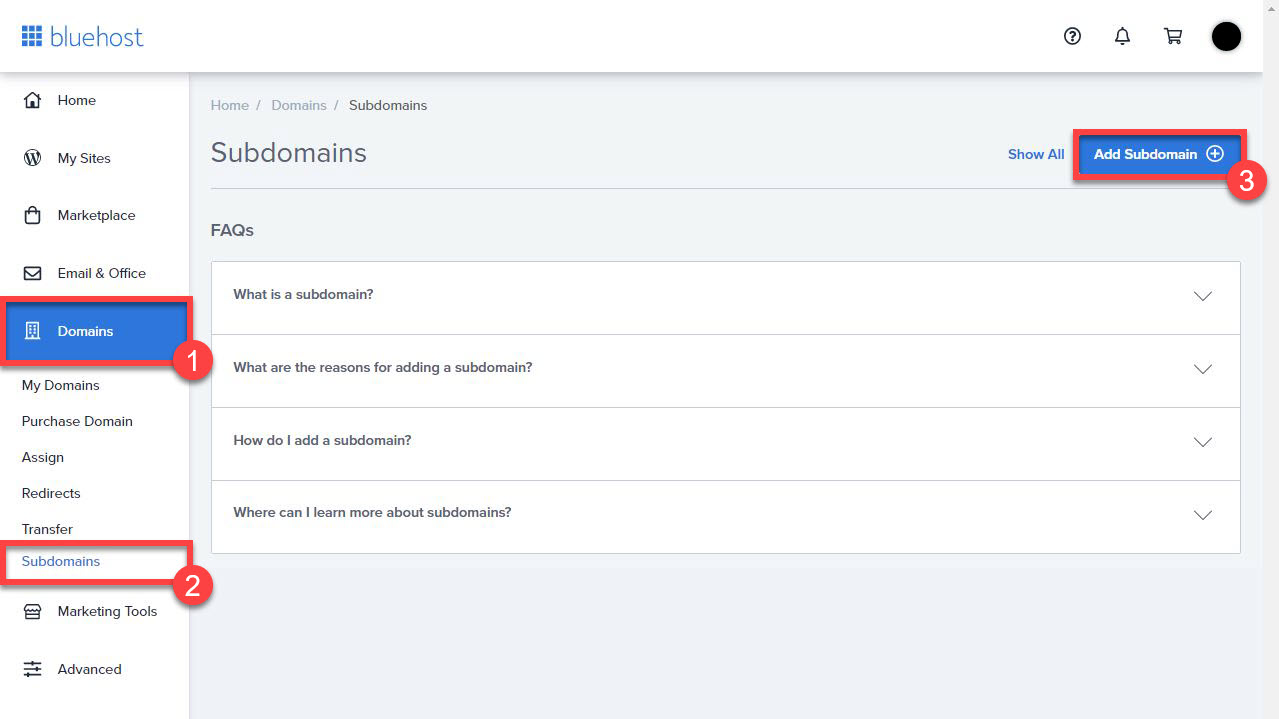 Enter your desired subdomain in box 1, then choose one of your Domain Names from the drop-down list. Next, enter the Document Root in box 3 (this is the folder that contains the website you want to show). We recommend that you use the same name for this folder as your subdomain. Lastly, click the Add subdomain button.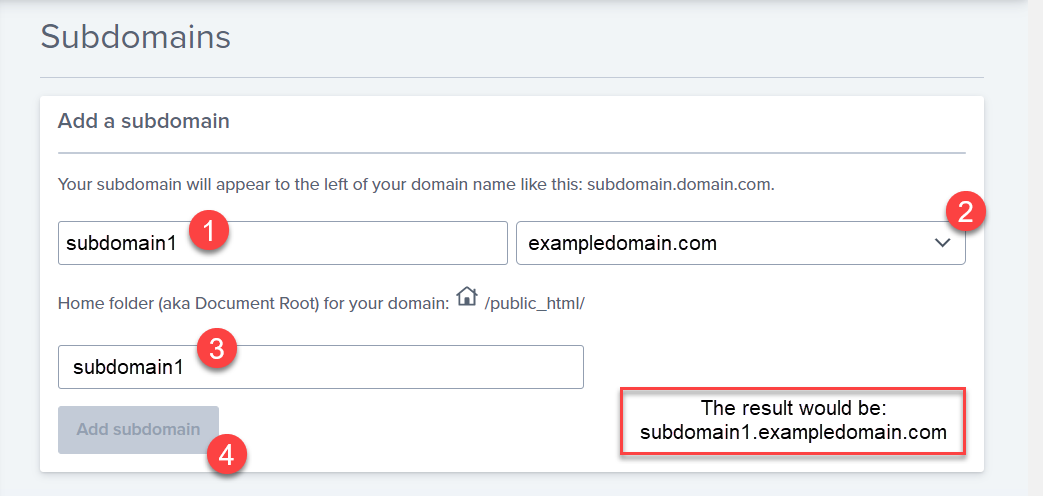 What is a Primary Domain?
A primary domain is the main domain your account is primarily associated with or is named after. Usually, this is the very first domain that you use in your account. It's also the domain that you use to log into your hosting account.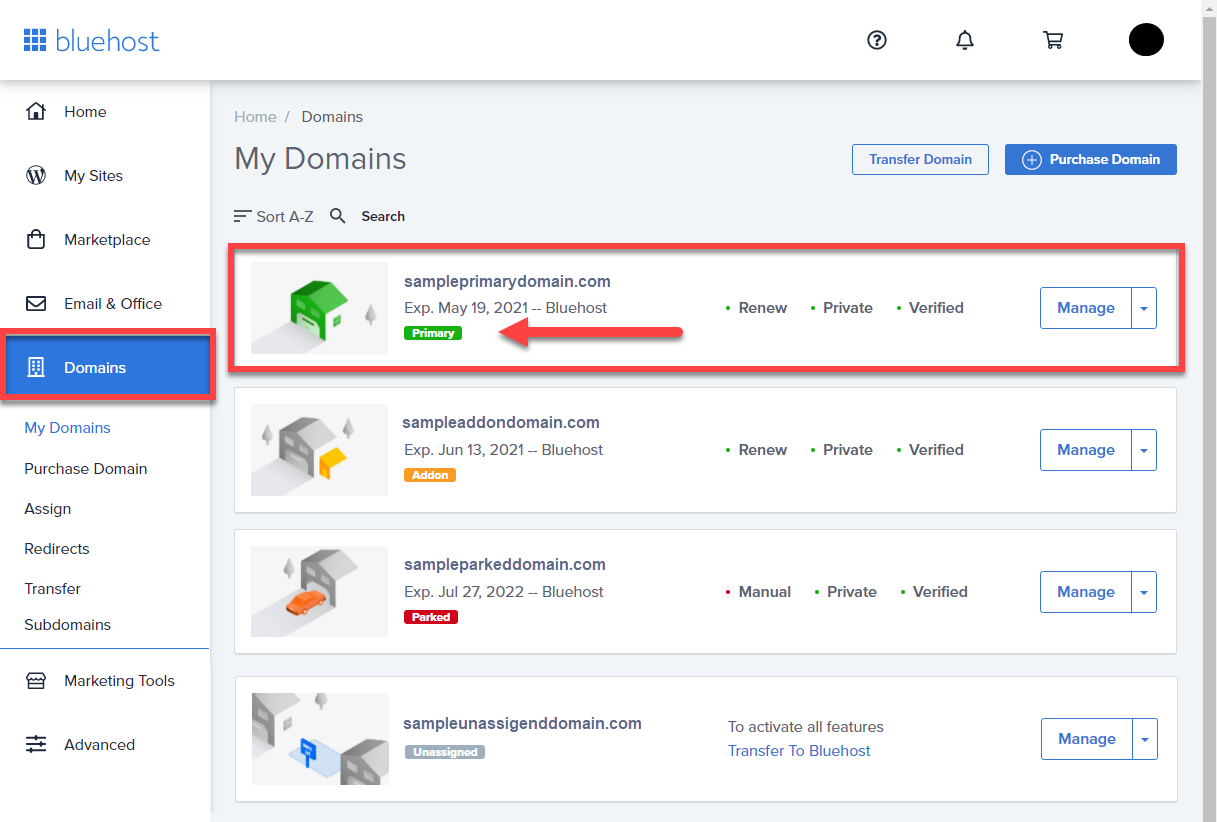 You may rename your account's primary domain in several instances. A rename, in most cases, is only a cosmetic change to which domain cPanel shows in the top toolbar. The difference between the Primary domain and an Addon domain's functionality only has to do with the organization of their files; A primary domain doesn't have any additional benefits over a parked or addon domain.
What is an Unassigned Domain?
Note: Domains can be assigned and unassigned from the Domain Manager. The steps for accessing the Domain Manager will vary depending on which type of account you have.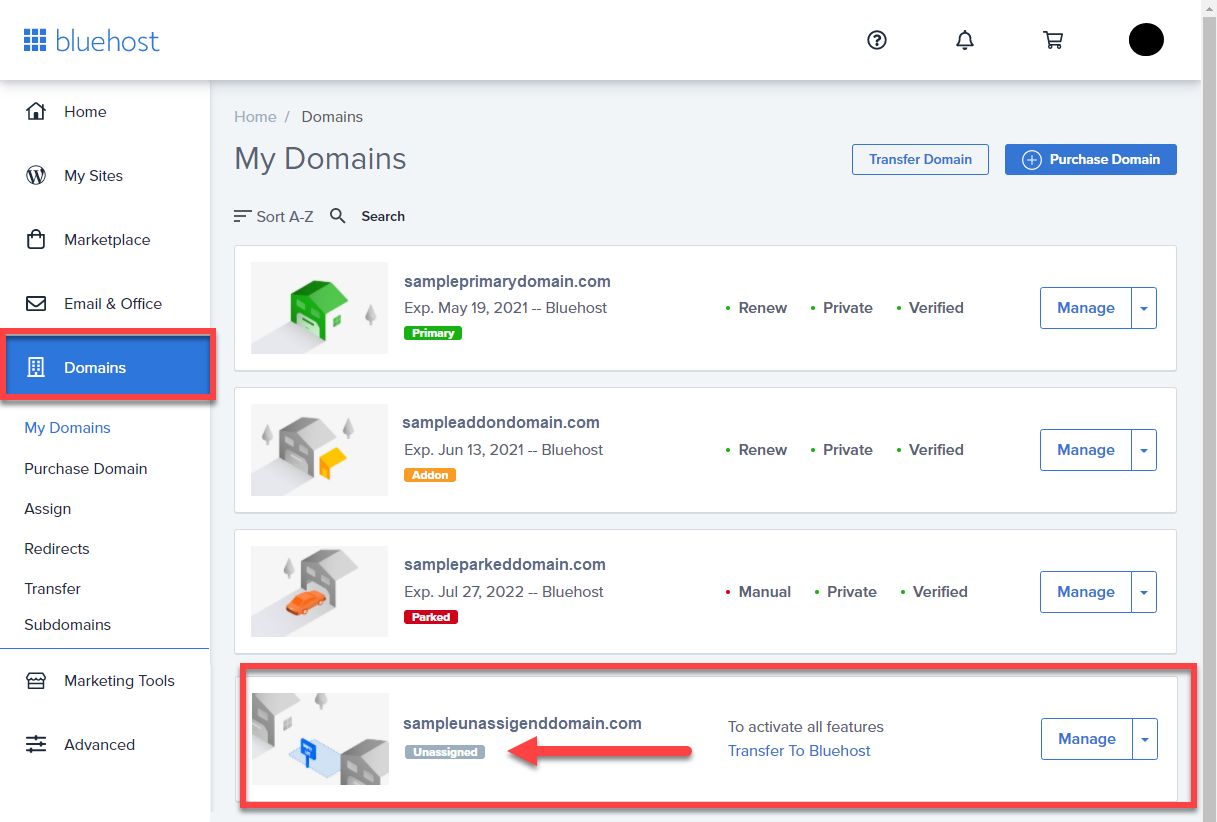 Changing a Domain's Assignment
You may change your domain's assignment as you please by:
Signing in to your Bluehost account.
Click on the Domains tab in the left-hand side menu.

Look for the domain you want to assign and click on the arrow down ▼ button next to Manage.
And hit on Assign.
You will be redirected to a page wherein you can choose whether to make the domain an Addon, a Parked, or an Unassigned domain.

Don't forget to click on the Assign this Domain button in the lower right corner once you're done.
If you need further assistance, feel free to contact us via Chat or Phone:
Chat Support - While on our website, you should see a CHAT bubble in the bottom right-hand corner of the page. Click anywhere on the bubble to begin a chat session.
Phone Support -

US: 888-401-4678
International: +1 801-765-9400
You may also refer to our Knowledge Base articles to help answer common questions and guide you through various setup, configuration, and troubleshooting steps.