FTP - General FTP Settings
Overview
The files for your main website will need to be uploaded to the public_html folder. To see how to publish your site to an Addon Domain, please see FTP for Addon Domains.
---
---
General FTP information
The best way to upload your website is via FTP. This can be done in a number of different ways using many different FTP clients. Every client needs 4 things:
Domain name or IP Address: Will be used in the "FTP address" field.
Username: Same as cPanel or the FTP account created.
Password: The password you set up to go with the cPanel or FTP username.
Port: Port 21.
Note: The Main Domain and Username can be found in the General Information section, on the right-hand side, of your control panel. The Password is the same as your control panel password.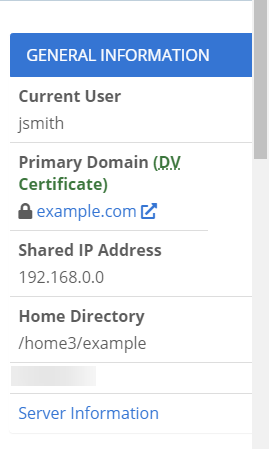 Application-Specific Settings
The following articles are instructions for recommended FTP applications.
Windows
Mac
Linux Based
For further assistance, you may contact our Chat Support or Phone Support via 888-401-4678. You may also refer to our Knowledge Base articles to help answer common questions and guide you through various setup, configuration, and troubleshooting steps.