November kicked off strong for the WordPress community with the release of WordPress 6.1 "Misha" on November 1, 2022. This version introduces new features that allow users to change up the styling and design of their websites and introduces a new default theme that takes advantage of all the new improvements in this release. But that's not all. The WordPress platform also received several important performance improvements in this release.
Other than the exciting release of version 6.1, many people in the WordPress community are looking forward to important events such as State of the Word 2022 and WordCamp Asia 2023. Read on to learn more about:
WordPress 6.1 release
State of the Word 2022
WordPress.org to launch a dedicated developer blog
WordPress.org to explore using Github code space
WordCamp Asia 2023 announces speakers
What's new in WordPress 6.1 "Misha"?
Named after jazz pianist Mikhail "Misha" Alperin, WordPress 6.1 is the third and last major release of the year. This release was made possible thanks to the hard work of contributors and developers all around the world. More than 800 people from 60 countries and 180 companies participated.
Bluehost is proud of its contributions to the WordPress platform as the company is actively participating in new releases. With version 6.1, Bluehost contributed greatly with 150 contributions. Yoast – a fellow company in the Newfold Digital family – also participated with 740 contributions.
Let's dive into some notable changes that will have an impact on the way you use the platform!
Enhancement to the full-site editing experience
Built on the features and improvements in recent major WordPress releases, version 6.1 brings a lot of new possibilities to full-site editing.
Global style interface
The global style interface can be accessed from within the "Site editor". This feature received a lot of attention when it was introduced in WordPress 5.9. It lets you change up the styling of your whole website in just a few clicks. From the styling of your text to the color of your background, you can do a bunch of things here. WordPress 6.1 brings more customization options to this feature, allowing you to:
Set the styling of typography for headings and buttons
Set the default colors of headings and buttons
Change up the global layout for your pages
Although these settings apply to all pages on your website, you can override them when you want to make changes to specific pages. Another thing to note is that this feature takes advantage of full-site editing, so you'll need to install a block theme to make use of it.
Enhanced template creation experience in the site editor
Full-site editing makes it easy to create templates to use for specific pages on your website. In the site editor, you can create templates for your posts, search result pages, 404 pages, and more.
WordPress 6.1 allows you to create even more templates. Most notably, it lets you create custom templates that you can use on any type of post or page. Next to that, you gain more control over some other templates. For example, you can now create a template for posts or pages and determine which type of post or page will use this template.
Enhancement of the design tools in the block editor
WordPress 6.1 brings various enhancements to the design tools in the block editor for various blocks. Look to the sidebar of the post editor. Here you'll find a section called "dimensions" where you can leverage this new enhancement. For instance, you can now control the padding of the paragraph and group block.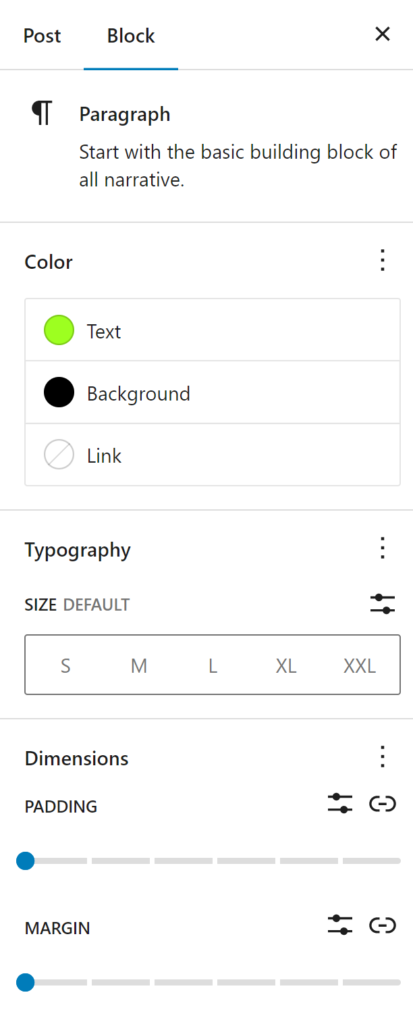 Next to that, version 6.1 adds border support for more blocks. It allows users to adjust the border of a block separately, which is great if you want to spice up your page layout. To assist users in adjusting dimensions, WordPress adds an intuitive visualizer that shows you how changes affect your page layout, all while you're making the change. This visualizer shows up every time you work with dimension controls so you don't need to turn it on.
New default theme
WordPress introduces a new default theme every year, and this year we get the Twenty Twenty-Three block theme. This theme takes advantage of all the enhancements and improvements to the global style interface and design tools. It encapsulates WordPress's vision of putting more control in the hands of users.
One notable feature of this theme is the powerful style variations. Twenty Twenty-Three actually comes with 10 style variations for you to play with. These variations were selected from a wide range of entries from the community. What's impressive is that each of these variations is totally distinct from one another. They have a distinct color scheme, styling, layout, and they all look amazing. This theme will surely be useful for small businesses and bloggers, as it can satisfy the design needs of these users without them having to spend a lot of money on a premium theme.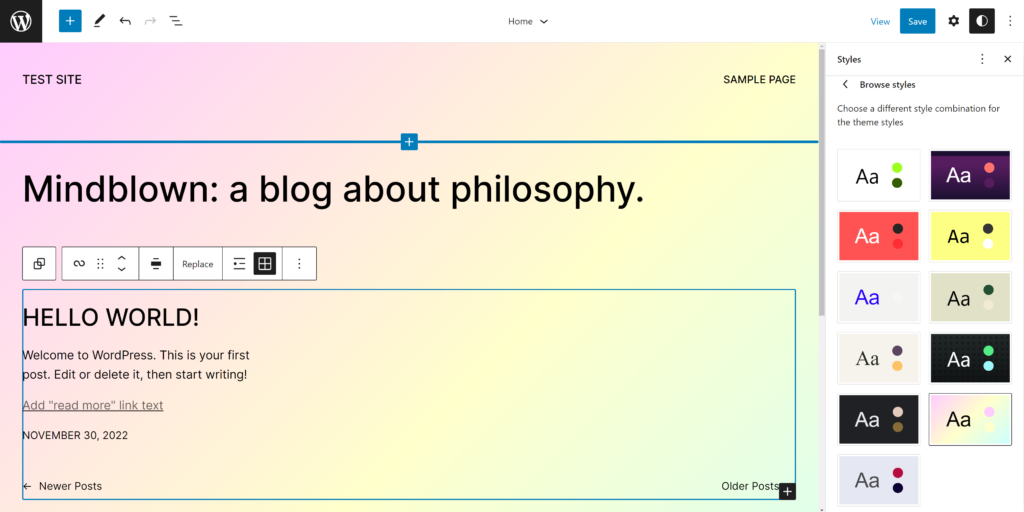 Performance improvements
WordPress 6.1 introduces several important performance improvements to the platform. Two notable improvements include the addition of caching to database queries in the WP_Query class and improved compatibility with PHP 8x. The addition of caching to database queries helps to reduce the number of database queries, which helps websites to load faster. Next to that, from WordPress 6.1 onwards, we'll get better compatibility with PHP 8x, which is a great news as each new PHP version fixes security issues and improves website speed.
All in all, these improvements mean that WordPress as a platform is getting faster and becoming more efficient. Speed is an important factor for SEO because it is a signal of a website providing a good user experience for its visitors. As WordPress becomes faster, sites running WordPress also benefit in terms of SEO.
State of the Word 2022
State of the Word is the annual keynote address delivered by the WordPress project's co-founder, Matt Mullenweg. This event is to reflect on the progress and future of the WordPress project. This year, the event will be held on December 15, 2022, in New York. The event will be live-streamed for everyone in the community to join.
If you're interested in knowing more about the progress and future of the WordPress platform, join the live stream on December 15, 2022, 1 – 2:30 P.M. EST. The live stream will be embedded in the announcement post, or you can also watch it on the WordPress Youtube channel.
WordPress.org to launch a dedicated developer blog
WordPress.org is looking to launch a dedicated blog for developers. This is WordPress's attempt in making it easier for developers to find information and stay on top of the new features coming to the platform. Currently, developers and contributors rely on The Make Core blog to look for information. However, this blog serves more as a place to store meeting notes and documentation for the various core teams, rather than highlighting new features.
Content on the new developer blog will range from case studies, and guides on programming concepts, to updates that are interesting and applicable to theme and plugin makers, developers who work at agencies, and much more.
WordPress to explore using Github Codespaces
In an effort to improve the working experience for contributors and developers, WordPress is exploring the possibility of using Github's Codespaces. Codespaces is a cloud-based development environment that can be easily accessed and quick to launch. It allows developers to set up and get a development environment up and running in a matter of minutes, instead of hours in some cases.
This news is welcomed by many WordPress developers, as they believe it will make it easier for both new and experienced contributors to participate in developing WordPress. WordPress lead developers are looking to test Codespaces for new contributors on a Contributor day.
WordCamp Asia 2023 announces speakers
WordCamp Asia 2023 is the first-ever flagship event to take place in Asia. This event will take place from February 17-19, 2023, in Bangkok, Thailand. The organizers have recently announced several rounds of speakers, which include a diverse selection of WordPress professionals from Asia and across the world. Unfortunately, tickets for the event were sold out. If you wish to get updates on the talks and activities during the event, it may be good to follow WordCamp Asia on Twitter and Youtube.
Stay up to date with all the latest WordPress news with Bluehost. And if you want to take your WordPress website to a new level, sign up for a Bluehost hosting package or our Blue Sky service to get in-depth WordPress assistance today.