Creating a website is a great way to establish your brand or business on the internet. Anyone can create websites nowadays, even without any development experience. There's one important step you need to take to ensure you have the right tools and resources to get your website up and running. That is: choose a good hosting provider.
Bluehost websites are powered by WordPress, which allows limitless possibilities to customize and build a website of your vision. Whether it's a business or personal website, Bluehost has the tools and resources to help you set up a website in no time. Our offers are tailored to a wide range of businesses and websites. Even if you're on a shoestring budget, Bluehost has something to offer you!
Below you'll find the top 3 reasons why you should start your website with Bluehost!
---
Bluehost is one of the top hosting companies of 2022
Bluehost is proud to have been recognized as one of the top hosting providers of 2022 by the U.S. News 360 Reviews.
The U.S. News 360 Reviews researched and analyzed dozens of web hosts and professional reviews before granting Bluehost the title of best hosting service of 2022 (tied with two other hosts).
Building a website with Bluehost becomes much less of a hassle, as we'll provide you with the basics that every website needs. For instance, you'll get a free SSL certificate, a free domain in the first year, fast storage with SSD, and even a free CDN. Not to mention, installing WordPress with Bluehost is really easy with the one-click installation feature. And you'll get a fast and flexible theme that comes pre-installed.
But that's not all, of course. We're praised not only for our expertise with the WordPress platform but also for our reliability, ease of use, high-quality support, and variety of services. What makes us stand out from the rest of the competition are the offers tailored to ecommerce businesses, which we'll get to later in this article.
In addition to that, we understand that building a successful online business requires a lot of hard work. So, we believe some form of guidance is always appreciated, especially when you've just started out. That's why Bluehost's customers can purchase support packages that will assist them in marketing, website building, SEO, and security for their sites.

Surely those benefits must come with a hefty price tag, you may think. Well, that's actually not the case. Our pricing is very competitive and is comparable to that of other hosting providers. So, you don't have to worry about breaking your budget to get a good, reliable host. It does not matter if you are a small business owner looking to sell online, a multi-million dollar business, or someone looking to start your own blog, Bluehost has an offer for you.
Affinity and experience with WordPress
When it comes to hosting WordPress websites, very few companies can match Bluehost's experience and expertise. That's thanks to our long-standing relationship with WordPress, which started in 2005. We even have an in-house team of dedicated WordPress experts, including developers who work full-time on the development of the WordPress core!
Our experience and expertise with the WordPress platform have allowed us to build hosting packages and features to tailor to the needs of users of varied expertise. While it's great to have as many features as possible, you wouldn't need them if you don't use them. Not to mention, by offering the appropriate resources and features for a package, we can better determine the pricing of that package and help our customers choose the right one for them.
Adding to that, creating a WordPress website has never been faster and easier with Bluehost. We seek to provide assistance to our customers at every step of the customer journey. From providing easy online setup with Bluehost's one-click installation feature, to a dedicated dashboard where users can find curated plugins and tools and manage every aspect of their website. We try our best to make it easy for you to build and manage your website, so you can focus your attention on other things that impact your business.
Featured-packed offers for ecommerce businesses
The beauty of WordPress is that it's extremely powerful and flexible. Anyone can transform a regular WordPress site into a fully functional online store with the help of the right themes and plugins.
However, you may need to do your own research to determine what additional software you'd need. What if, instead of you having to do all that research, someone else can do that for you? Well, that someone can be your hosting provider!
At Bluehost, we understand that there's a big difference between building a normal website and an online store. An online store requires many additional functionalities that a normal website wouldn't need. To name a few, you would need a shopping cart, a checkout page, and a secure payment gateway so your customers can buy and pay for your products. Not to mention, you'd need a lot of storage for those amazing, eye-catching images to appeal to potential customers.
Taking into account all the needs an online store has, Bluehost has created hosting packages specifically to meet such needs. With these offers, you'll receive the standard benefits that every Bluehost customer gets like a free SSL certificate and free domain registration in the first year.
On top of that, you'll also get many other benefits that make running an ecommerce business less of a hassle. For instance, you'll immediately have access to a collection of YITH plugins, including Payment Processing, Gift Cards, Appointment Bookings, Wish Lists, Shipping, Product Search/Filtering, and Customer Account Creation. Basically, that's everything you need to get your online store up and running in no time.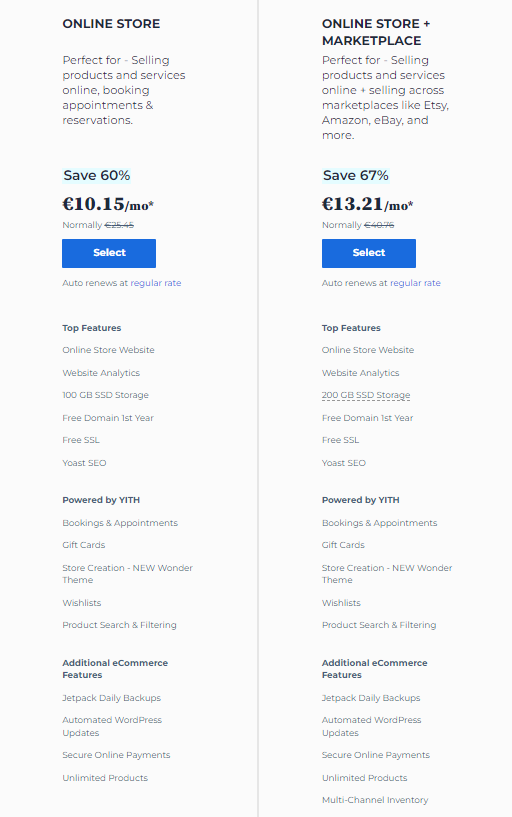 Not to mention, we write a lot of content to help you get started with building a successful online store on the Bluehost blog and resource center. You'll definitely find lots of useful information here. A good starting point would be this ultimate guide on setting up your online store.
---
WordPress websites give users the power to create a website that reflects their brand or business through an array of creative and engaging functions. Whether you're transforming your website with a dynamic theme or enhancing your functionality with a plugin, WordPress allows you to spread your creative wings and take your site to new heights. Start creating your WordPress website today!