12 Underutilized Bluehost Features to Make Your Website Experience Better
Bluehost is a one-stop shop for the hosting needs of various business types and sizes — whether small businesses, online stores or informative blogs.
Most hosting reviews attest to Bluehost's reliability and functionality. So it comes off as no surprise that over two million websites use Bluehost as their web hosting solution.
Bluehost stands out among popular hosting companies with its 24/7 customer support, affordable hosting packages, impressive uptime and extensive suite of plugins and tools.
Several Bluehost reviews over the internet regard it highly due to its dedicated hosting services.
Nonetheless, Bluehost has much more to offer you. Read on to learn about the underutilized Bluehost features.
Bluehost Features to Aid Your Business
4. Professional Marketing Services
7. Spam Experts Mail Filtering
8. Domain Privacy + Protection
Final Thoughts: 12 Bluehost Features To Get Ahead of Your Competition
Bluehost: A Quick Overview
Bluehost, founded in 2003, is a leading web hosting provider that continues to empower businesses to have a robust online presence.
Bluehost is a web hosting solution for all business types and sizes — from new bloggers to freelancers and e-commerce stores to large enterprises. Its straightforward yet capable products and services suit you whether you're a novice or a pro.
With its affordable plans and price discounts on web hosting packages, many growing businesses rely on Bluehost's services.
WordPress.org also recommends Bluehost as the top WordPress hosting provider for enhancing website's speed, performance and design.
Here are some of the features Bluehost offers:
Dedicated servers
Knowledge base and blog posts to address FAQs
Free SSL certificate
A comprehensive range of Bluehost features and plugins
24/7 support team
Bluehost Hosting Plans
Bluehost has multiple hosting options — for various business types and needs — that come with affordable pricing to cater to startups and developed businesses.
Bluehost plans include:
Hosting packages vary from basic plans to plus plans, with some featuring pro plans and choice plus. The remaining plans vary from standard to premium pricing plans.
Getting Started With Bluehost
To get started with Bluehost:
Sign up for a hosting package. 
Get a free domain name that comes with its hosting packages.
Create a Bluehost account.
Set up your WordPress site for the best web experience.
Bluehost Features to Aid Your Business
To grow your brand's online presence, you have to treat your website as your brand's core salesman. It must connect with the customers and make them feel important.
You can do so by:
Improving your website's performance — respect your customers' time
Developing a simple UX (User Experience) design — provide a straightforward experience that resonates with your target audience
Ensuring the highest security standards — protect your customers' data
Bluehost offers a wide range of features to enable you in this venture:
1. Blue Sky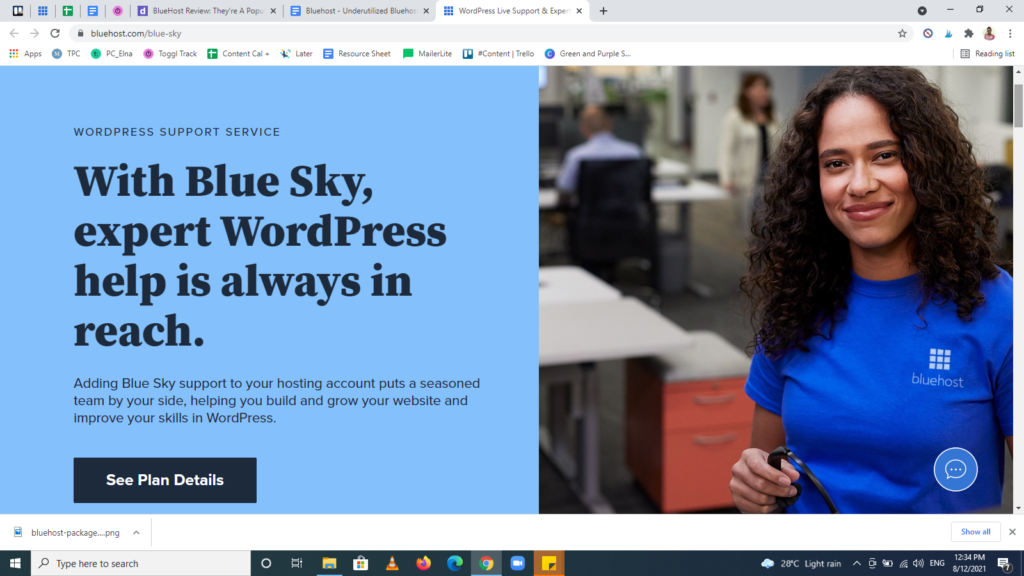 With Blue Sky, you get expert support and one-on-one guidance to build, manage and customize your WordPress website with ease.
Blue Sky gives hands-on Bluehost support throughout your website development and maintenance. It enables you to maximize your website's potential in SEO, marketing and security, accelerating your brand's growth.
Benefits of Blue Sky include:
Design guidance
Website setup and backup assistance
On-demand chat support
Content optimization help
Account access assistance
2. Bluehost's Website Builder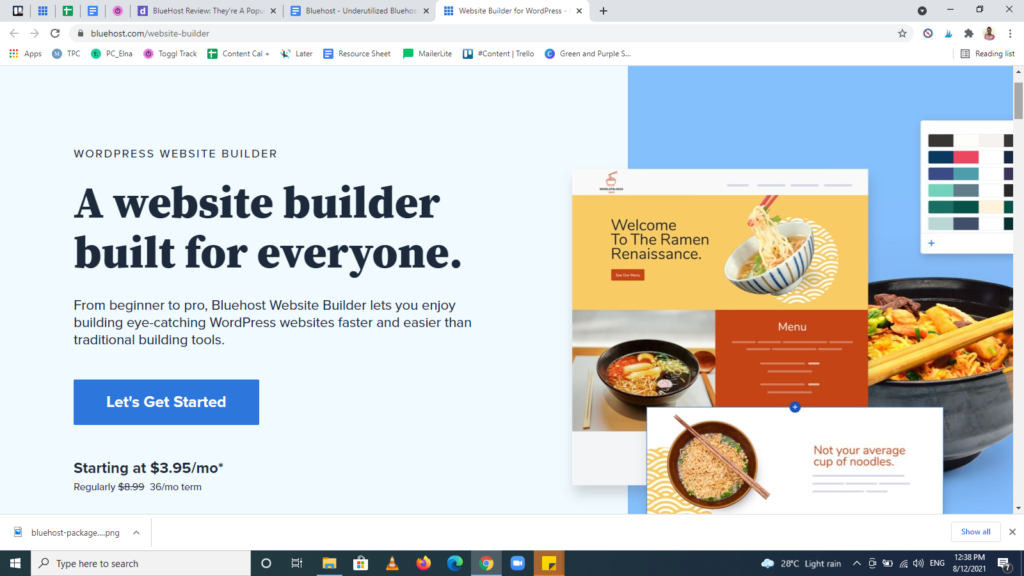 The ease of use of Bluehost's Website Builder makes it a quick and easy solution to create a WordPress website from scratch.
Through smart AI, this Bluehost feature empowers you to build an attractive, custom-designed and responsive website for your business.
Benefits of Bluehost's Website Builder include:
Custom CSS in builder's dashboard
Stock image library
Custom-designed templates
24/7 live support
Real-time website editing
3. Security Features
Bluehost security features protect your business website from cyberhackers, malware and trojans attacks.
Among Bluehost's security features, the most prominent one is SiteLock. It is a third-party service that monitors and protects your website from hackers.
This Bluehost feature scans your webpages for malware and prevents your website from search engine blacklists and downtime.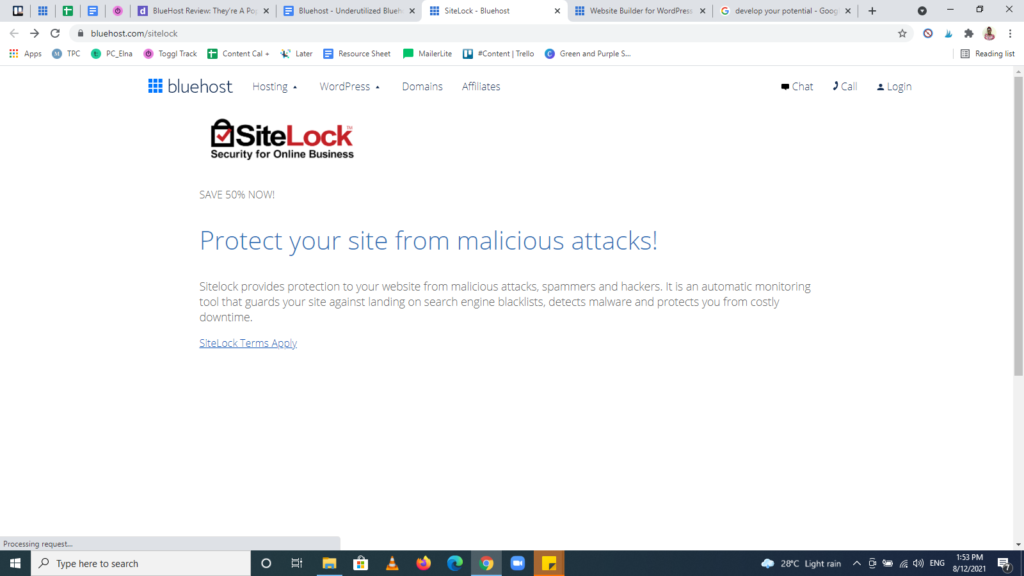 Other Bluehost security features include the server, domain and database securities.
4. Professional Marketing Services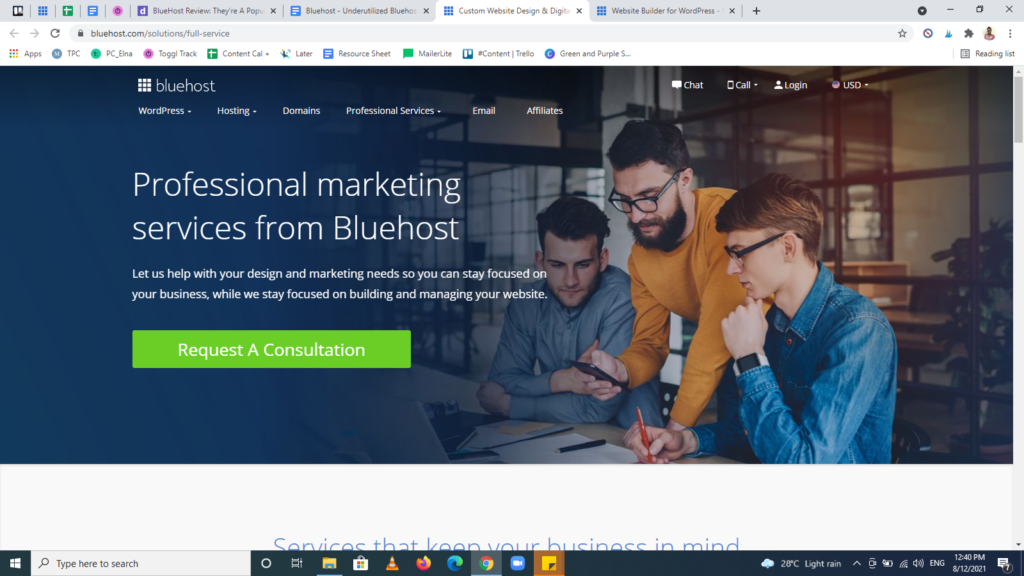 Professional marketing services from Bluehost is an efficient Bluehost feature for going from clueless about online presence to having a fully built and managed website.
Professional marketing services cover:
Professional marketing services of Bluehost enable you to focus on your business, leaving the design and marketing to Bluehost. Bluehost's design and marketing professionals then work together to create a website from scratch and get the target audience interested in your business.
Benefits of Professional marketing services include:
Website services: It includes website building, ongoing design and marketing.
SEO services: Bluehost's team will structure and optimize your website for better visibility on search engines.
Pay-per-click services: Marketing professionals develop marketing campaigns for you to target the right website traffic. It gives you decent ROAS (return on ad spend).
5. Microsoft 365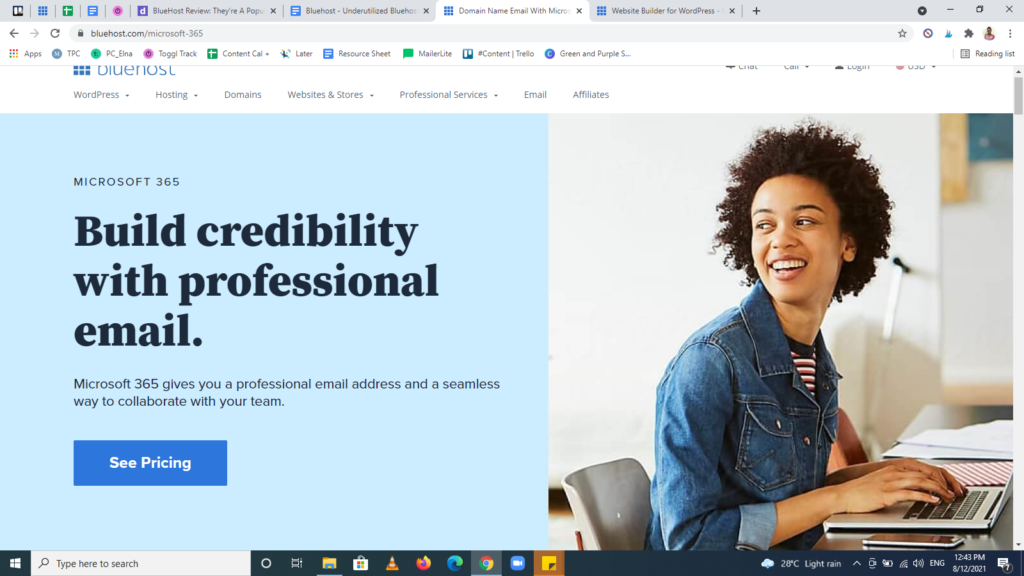 Microsoft 365 is a Bluehost feature that provides you with a professional email address and a seamless way to collaborate with your team.
Using a personalized email account that carries your domain name (e.g. name@yoursite.com) portrays your brand's professionalism and credibility.
With Microsoft 365, you have business tools at hand whenever you need them. You don't have to worry about losing information as working documents and company data are stored in the cloud.
Benefits of the Microsoft 365 include:
A mailbox and calendar
Domain name and email
Outlook web access
World-class security and disaster recovery
24/7 technical support
Bluehost Package Extras
In addition to the Bluehost features mentioned above, there are several smaller yet significant features known as Package Extras.
These Bluehost features improve your hosting and overall website experience.
6. Premium SSL 
Premium SSL (Secure Sockets Layer) provides a secured protocol to protects your website and customers' private information — their credit card details, usernames and passwords.
When an SSL is installed, it appears as a padlock icon before your website's URL (Uniform Resource Locator) in the address bar. It conveys to the visitors that their interaction with the website occurs through secured channels.
7. Spam Experts Mail Filtering
SpamExperts is a Bluehost feature that scans and filters incoming emails for spam, phishing and viruses before they reach your inbox.
It is designed to prevent all email-related attacks — including high accuracy malicious emails by botnets and spammers.
8. Domain Privacy + Protection
Domain Privacy is an add-on to keep your private data safe from the public.
Usually, your personal information is automatically added to a public database known as the WHOIS database when you register a domain name. But, by selecting this Bluehost feature, you keep your details private and safe.
9. Bluehost SEO Tools Start
Bluehost SEO Tools Start is a Bluehost feature that discovers relevant keywords to help with search engine results ranking. It also submits your website to search engines for website indexing.
Bluehost SEO Tools provides you with a detailed report to enhance your website SEO.
10. CodeGuard Basic
CodeGuard Basic is a Bluehost feature that offers automatic daily backups for your website.
With CodeGuard Basic, you have a one-click restore option to return your website to a previous backup.
11. Premium Cloudflare CDN
Premium Cloudflare CDN is a Bluehost add-on that automatically optimizes content delivery of your webpages to retain bandwidth and server resources while loading your webpages quickly.
Cloudflare improves website performance and decreases cyberattacks by its global filters.
12. Dedicated IP
An IP (Internet Protocol) address — looking like 234.123.66.7 — identifies a computer or server online. In shared hosting, several websites share the same IP address.
While it is generally safe, it does risk country-specific blocking of website.
You can purchase a dedicated IP to prevent that.
Final Thoughts: 12 Bluehost Features To Get Ahead of Your Competition
It can be nerve-racking to identify the opportunities you can avail of and get ahead of competitors in this cutthroat online business atmosphere.
With our insights into 12 Bluehost features to grow your business, you can find just the right tools to succeed. Go through this guide and choose the Bluehost features that fit your business needs.
Are you looking to build a custom industry-specific website quickly and easily? Get started with Bluehost's Website Builder today.