Website Builder (for WordPress) - How to Change your Site's Appearance
This article applies to the Bluehost Website Builder (for WordPress). For information about using the Bluehost Builder (our express website editor not connected to WordPress), please see Bluehost Builder - How to Update Theme Style.

If you are unsure which version you are using, please see Bluehost Website Builder (for WordPress) vs Bluehost Builder for more information.
Bluehost Website Builder makes building a professional website faster and easier by letting you choose preset color combinations and font pairings. The preset options ensure that your site follows best practices for design and accessibility. It also gives you a head start for customizing your website.
Managing Appearance
To begin, you will need to access your Bluehost Website Builder.
From the menu on the left, select Appearance. The Appearance panel will open, including a side-by-side view of every page on your site.

Choose from Color, Fonts, and Animation to make changes.
The Theme Options menu chooses between a light or a dark theme and tries different color schemes and fonts. Click between the tabs to access different style settings.
Colors
Changing light and dark color schemes
Choosing between light and dark colors gives you two versions of your color palette — a light, bright option, and a deep, darker option. Changing the light/dark setting will update the color settings throughout your site.
Changing site colors
Your site colors are displayed under the Color tab. To change a color, select it, and new color options will appear. You can choose a color using the visual color picker or enter it as in any of the following formats: HEX, HSL, or RGB. You can also change your entire color palette by selecting Explore color themes.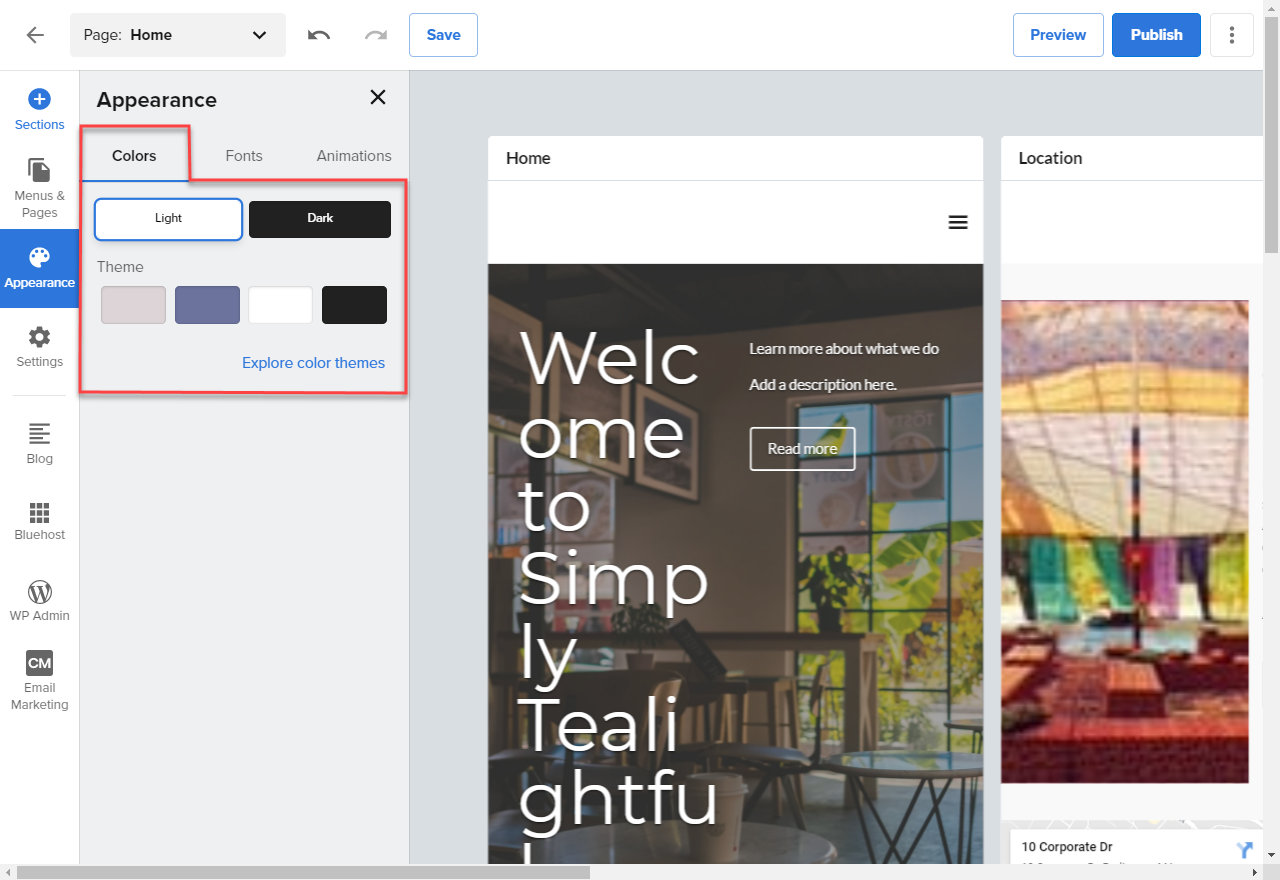 Fonts
Changing font size
From the Appearance panel, you can choose between Small, Medium, and Large font sizes. You can also change font sizes by selecting text on your site. The text menu will appear, and you can select S, M, or L to adjust the size.
Change font style
You can choose from the recommended "Presets" or select custom title and paragraph font options. Changing the font will update the font throughout your site, so it's not possible to display more than one font pairing on your site at a time. This helps keep your site consistent and creates a better experience for your site visitors.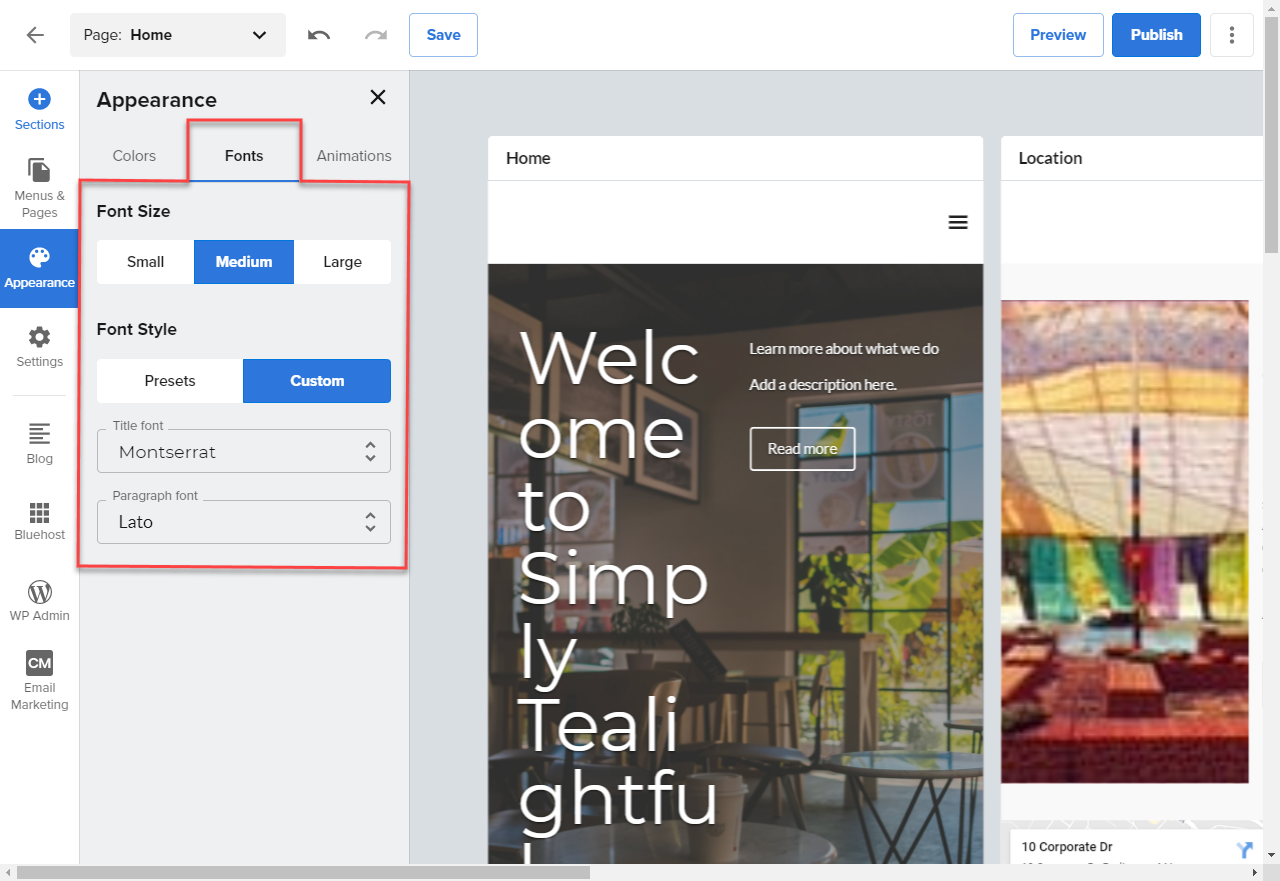 Animation
From here, you can enable the animation and also toggle the duration if short or long.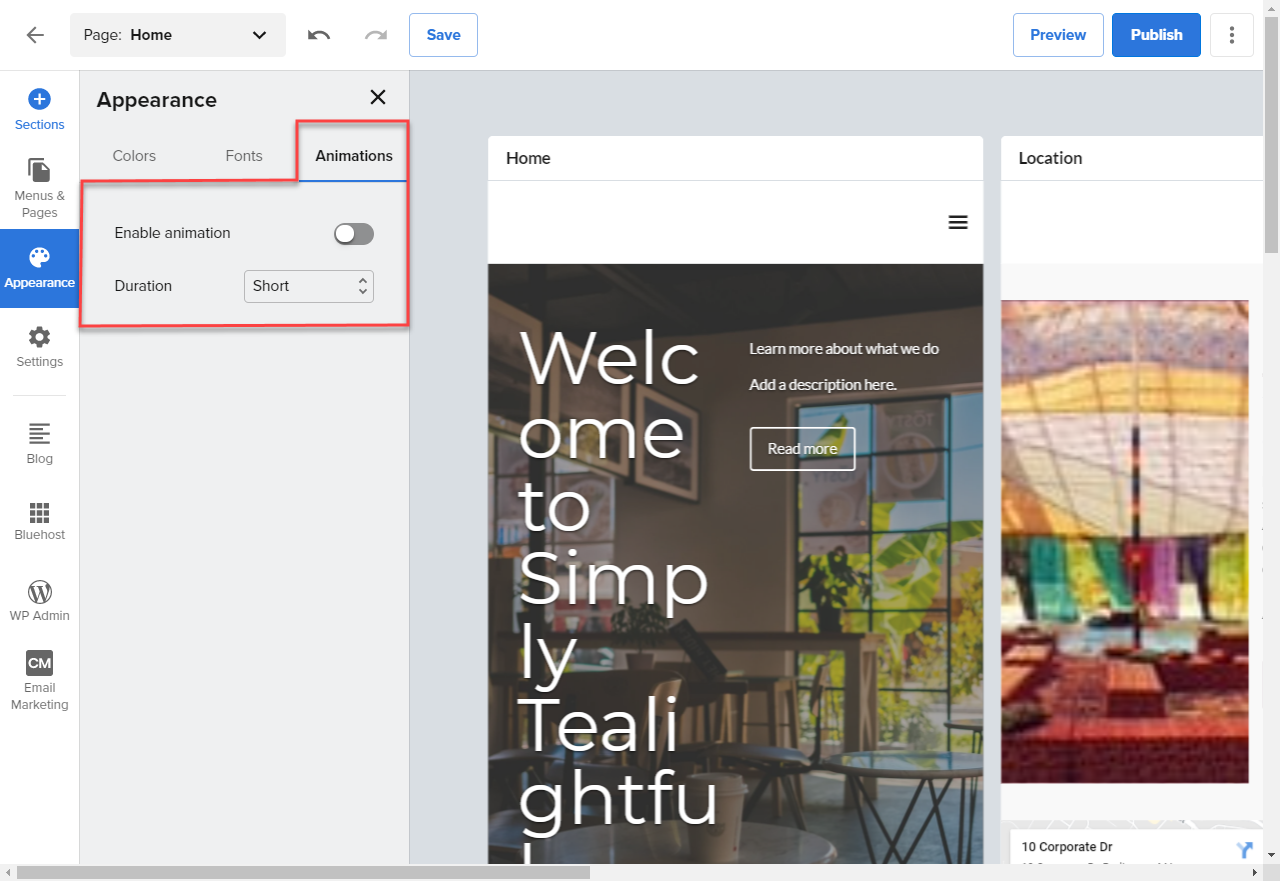 Note: Your edits and updates are reflected instantly in Website Builder, but don't forget to hit Save or Publish to save your work.